NEET 2017: Setting upper age limit for state quota seats is ruthless say medical aspirants
Medical aspirants across the country are protesting against CBSE's (Central Board of Secondary Education) announcement of an upper age limit in state quota MBBS / BDS seats. In its notification released on January 31, CBSE mentioned that for counselling of all the medical seats in the country, there will be an upper age limit of 25 years.
Protests have been on since the notification was out. First, aspirants protested against capping the NEET attempts to three, with previous attempts of NEET/AIPMT being counted. On February 3, the Ministry of Health and Family Welfare (MOHFW) changed this norm and assured aspirants that NEET 2017 will be counted as the first attempt for all.
However, aspirants are not happy with the persisting upper age limit of 25 years for the 85% state quota seats.
Talking to PaGaLGuY, an aspirant from Kolkata who didn't wish to be named, informed about their protest today in front of the Health Education Office against the setting of an upper age limit for states. "Till last year, there was no upper age limit in WBJEE (West Bengal Joint Entrance Examination) for medical admission in the state quota seats. But, due to the recent notification, the aspirants who are above 25 years will not be eligible for the 85% state quota seats in West Bengal this year," said the aspirant.
Another aspirant from Tamil Nadu, Iswaryaa Sunder, questioned the need of the decision taken by the CBSE at the last moment. "Situation in every family is different. Many students couldn't pursue their education due to financial or other family-enforced conditions. Some might be studying some course, but are passionate about medicine. The government should not prevent them from pursuing their dreams. I myself couldn't take NEET last year due to health issues, which resulted in a lost year in my case," informed Sunder.
Abhishek Tiwari, an aspirant from Uttar Pradesh, will be taking NEET for the third time this year, and was clearly not happy with the age limit. "The decision will prevent a great number of students, who want to pursue a career in medical field from taking the examination. We, as students can only protest against the government's decision and expect fair judgment," said Tiwari.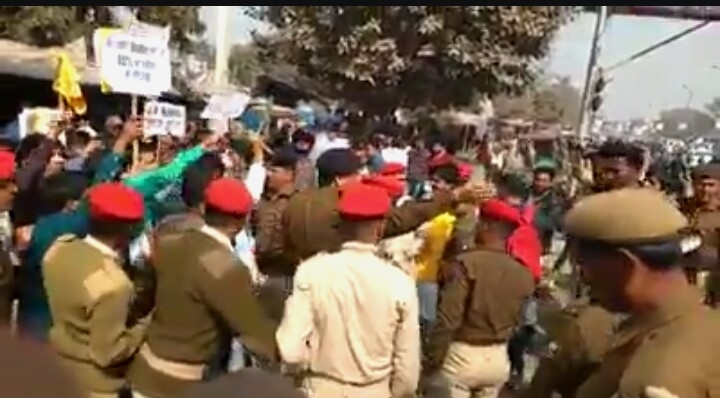 In another protest today in front of the BJP office in Patna, police had to intervene and disperse the protesting students. Vivek Pandey, an aspirant present in the protest informed that he is against this sudden implementation of upper age limit for the state quota seats by CBSE. "It is unfair for students who are more than 25 years old. I feel there is no age for you to begin your studies in the field you are passionate about. It is ruthless and unfair to aspirants," said Pandey
Sarit Kundu, a first year MBBS student from Mumbai, is also against the decision. "The year I took NEET, there was no upper age limit. Although the attempt barrier is relaxed, it is unfortunate that aspirants over 25 years of age won't be able to take the exam," said Kundu.
"Extending the upper age limit to the state quota seats will shatter the dreams of those who, fighting all odds, want to pursue medical education," concluded Sunder.