NEET 2017: Why NEET aspirants are still protesting
Although, with the intervention of the Ministry of Health and Family Welfare, the CBSE (Central Board of Secondary Education) announced that NEET 2017 will be considered as first attempt for students, there are still protests ongoing in various parts of the country. Protesting aspirants are demanding the removal of the upper age limit from the 85% state quota seats.
Previously, for NEET/AIPMT, the age limit of 25 years was only bound for the 15% All India Quota seats. No age limit was imposed (by the centre) on the candidates who were selected by the state medical authorities conducting the counselling for MBBS/BDS seats in their respective states. The Madhya Pradesh Directorate of Medical Admission and University of Delhi had put an upper age limit of 25 years of age for admission under the 85% state quota seats last year.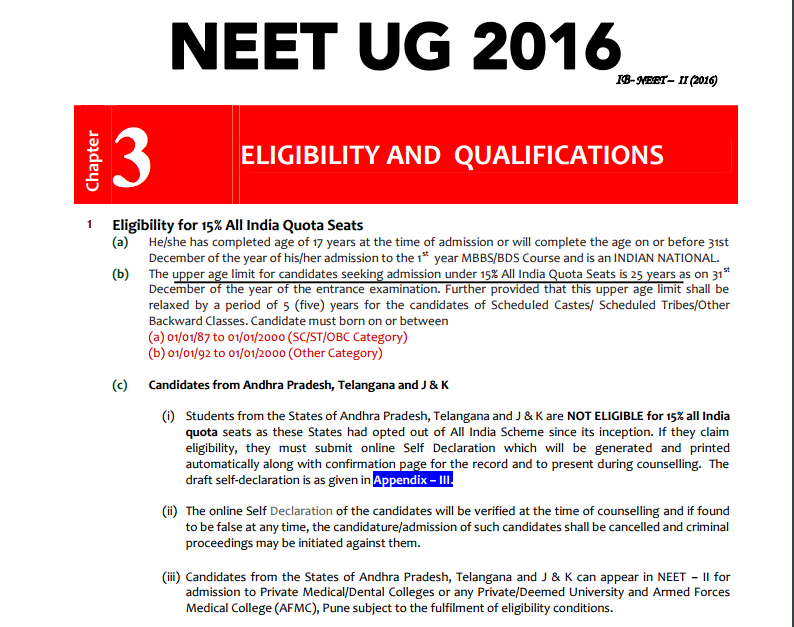 However, in the notification released by CBSE for NEET 2017, it is mentioned that the upper age limit will be applicable to all aspirants for overall seats.
RTI Activist and VYAPAM scam whistle blower Dr Ananda Rai is vocal about the whole matter and criticized limiting the upper age for taking NEET 2017. "Without taking consent from any of the states, how can CBSE and the central government decide about the upper age limit for state quota seats? Even if you talk about Right to Education Act, it is a violation to put an age limit for medical aspirants, barring them suddenly from taking the examination this year," said Dr Rai.
Interestingly, a letter written by Amit Biswas, Under Secretary, Ministry of Health and Family Welfare, on January 17, suggested that CBSE not put any cap on attempts and initiate upper age limit. However, there was a mention that the final decision will be in the hands of MCI/DCI (Medical Council of India/Dental Council of India). The notification that was released by the MOHFW (Ministry of Health and Family Welfare) on February 3 stating NEET 2017 to be termed as the first attempt, did not mention anything about the upper age limit.
"Indian Medical Council Act, 1956 doesn't have any mention of an upper age limit. Hence, the CBSE imposing an upper age limit without a mention of the same in the MCI is unconstitutional," further added Dr Rai.
Protests are being registered in different parts of the country by aspirants, who are demanding a fair chance this year. "We have filed a petition in the Supreme Court today against the upper age limit clause for state quota seats. CBSE and the central government has no right to put a cap on aspirants to want to take the entrance examination," concluded Dr Rai.