Candidates selected in UPSC CMS 2016 still await NEET PG results
The Union Public Service Commission (UPSC) has declared the results of Combined Medical Services (CMS) examination, 2016 on the official website . A total of 894 candidates have been recommended for appointment, based on the scores of candidates in the computer-based examination (Part I) followed by the personality test (Part II). The personality tests were conducted from the month of August till December this year. The selected candidates will be appointed as Assistant Divisional Medical Officers  in Railways, Indian Ordinance Factories Health Service etc. based on their ranks.
Talking to PaGaLGuY, Bhaskar Dutt Mishra, rank 40, expressed his excitement and said that he would like to be appointed as Assistant Divisional Medical Officer in Railways. "Although, by my rank it looks like I can get Railways, I am not sure about it until the call letter arrives. Besides, I have taken NEET (National Eligibility cum Entrance Test) PG this year as well and I am waiting for its result to come out," informed Bhaskar.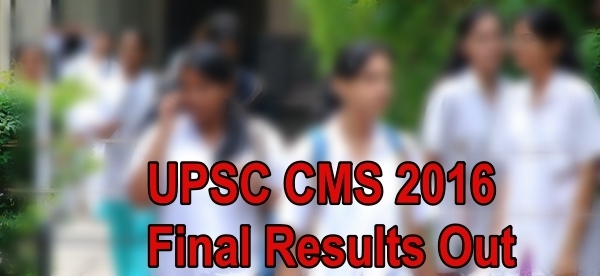 Bhaskar, belonging to a small village in Chattisgarh, completed his MBBS from a government medical college in Jabalpur, Madhya Pradesh. Another medico Jhelum Saurabh, hailing from Bihar, pointed out that her first preference has always been Railways. "I haven't given it a thought as to where would I be placed, but the first preference is always Railways. It was the first time for me and I am glad that I made it to the list," said Jhelum who has completed her MBBS from Guwahati Medical College. She has secured 255th rank in the final results of CMS.
The results of recently conducted NEET PG is scheduled to be out in the month of January. Along with Bhaskar, Jhelum has also taken NEET PG this year and is waiting for the results. "I will wait for the NEET PG results, to make a final decision about joining," said Jhelum.
UPSC, along with the list of 894 selected candidates, has published a list of 253 candidates provisionally. The documents of these candidates will be verified by the commission before offering them the call letters. The provisionality of these candidates will be valid only for the duration of six months, from the date of declaration of the final results. Candidates will be able to check their scores on the website after fifteen days from the date of publication of the result.
​
Click here and join our discussion forum to keep yourself updated about what is new in the field of medical education.