Why did a CAT petition to change IIM admission criteria receive popularity overnight?
A petition started online two days ago to alter the current process of admissions to IIMs has gained over 250 supporters overnight. The petition, aimed at HRD Minister, Prakash Javadekar and IIM-A Director, Ashish Nanda, has been started on change.org and is now popular amongst CAT aspirants and current year candidates as well. The idea of the petition is to make the criteria to receive a call from IIMs more favourable by scrapping the weightage given to board exam marks and base the selection criteria purely on CAT results. Click here to read about the petition.
Amongst the 281 signatories of the petition, as of today, January 17, some of them have expressed their concerns and opinions about the IIM admission procedure on the petition page. One of the supporters, Rahul Patil has written, "One's past mistakes should not shadow his/her present hardwork. It discourages those with low academic scores to perform well in the CAT." Another supporter, Kaustubh Vakil with 98.85 percentile in CAT 2016 hasn't received a call from IIM A, B, C, S and I, due to his low academic records.
Sagar Ravekar, one of the signatories of the petition has written, "It is incorrect to judge someone's capabilities of being a manager on the basis of his secondary and higher secondary marks." Similarly, many other supporters have raised concerns over the credibility of a system that basis a candidate's credibility for a post-graduate course on the basis of his/her CBSE/HSC marks than on their course-related knowledge. See images below;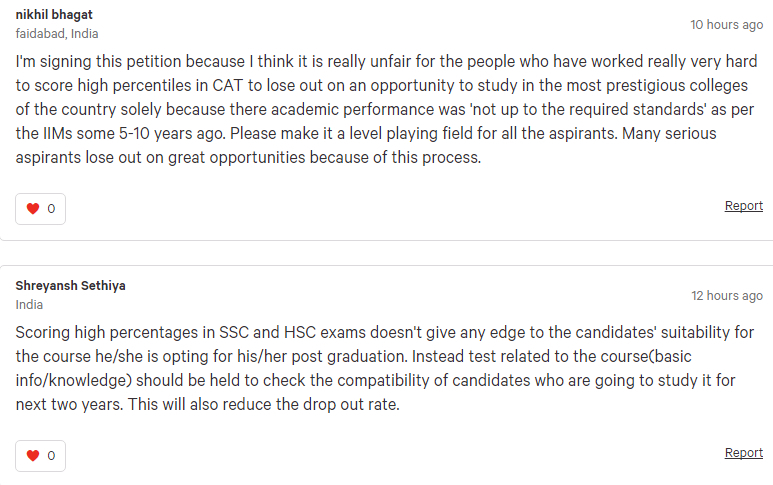 The above-mentioned comments imply that many students, both CAT aspirants and current IIM candidates, have unanimously demanded a change in selection criteria for admissions.