UPSC Civil Service Prelim Paper 1 analysis is here: check for more details
The Union Public Service Commission (UPSC) today (June 18) conducted the UPSC Civil Service Preliminary Exam 2017. The exam was for a total of 980 vacancies which are to be filled through the CSE.
Paper 1 analysis (weightage given to different subjects based on the number of questions)
| A | B |
| --- | --- |
| Ancient India | 3 |
| Modern India | 7 |
| Art/culture | 4 |
| Economy | 9 |
| Polity | 23 |
| Science & Technology | 10 |
| Govt Schemes | 12 |
| Environment / Ecology | 11 |
| International Relations | 12 |
| Geography | 9 |
​
Milind Bhavre from Mumbai said that the major emphasis this year was on government schemes and policies. "There were also a lot of questions on the environment. GS 1 was easier this year with a lot of questions from geography and history, and I am confident of scoring well. I am looking forward to GS 2." Suyog Bendre, who wrote his UPSC Mains last year from Dahanu said that he was confident about the 60 questions that he attempted.
However, for Soumitra Joshi from Pune was no so confident about his Paper 1. "I attempted about 90 questions, but I am not confident that I will clear the paper," he said.
​
UPSC conducts the prestigious civil service exam every year in the month of August. In 2017, this date had been pre-poned to June 18. UPSC CSE is three-stage exam process which includes – the objective Prelims, subjective Mains and a personal interview. CSE is the gateway to All India Services (AIS) like Indian Administrative Service (IAS), Indian Police Service (IPS), Indian Forest Service (IFS) and 22 other Central Services.
​
PaGaLGuY users felt the paper was strictly average to even questioning why they even attempted the paper in the first place on a poll conducted on our UPSC thread. Join in the conversation there, or leave a comment here and let us know how your paper was.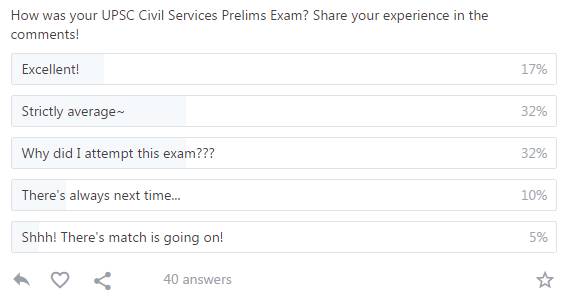 ​
For the Answer Keys, click here.
​
We will be updating this article over the course of the exam, so keep checking in.
​