Tough and lengthy – the two key words for RBI Grade B 2017 Phase-1 exam
A majority of the those who took The Reserve Bank of India Grade B Phase-1 exam today, (June 17, 2017) felt the paper was not only difficult but also lengthy. PaGaLGuY conducted a poll on the site and over 70% of the candidates who polled had exactly the same thing to say. Not only that, even our RBI expert said the paper was a tad too difficult.
Almost 2 lakh candidates took the exam today and the few who PaGaLGuY spoke to said that the paper today was definitely way tougher than those of the last two years. A candidate from Patna, Apoorva Kumar confirmed: "The exam was definitely more difficult than 2015 and 2016. My strong point is English but I found even that to be tough today. "
For Apoorva, there were a few miscellaneous questions which were easy in Quantitative Aptitude but overall that was not smooth sailing either. "Only one Data Interpretation question was of moderate level, rest two were extremely tough." Overall, it was felt that Quantitative Aptitude and Reasoning Ability sections were more difficult while General Awareness and English section could be considered a little moderate.
The RBI Grade B paper has four sections, namely General Awareness, English Language, Quantitative Aptitude and Reasoning. And there are Sectional cut-offs too. The maximum marks for each paper is 200. While each question has 5 options and 1 mark is awarded for every correct answer, negative marking attracts 0.25. Except English Language, others Sections are available bilingually – Hindi too.
Another candidate told PaGaLGuY said that though the Reasoning Ability section was moderate to tough, it was just too time consuming. She also said that while General Awareness was also of moderate level, it consisted of too many factual questions which also took up time. This candidate was able to solve only 127 questions of the 200 questions.
Reasoning Ability was found to be lengthy by others too. Deepak Kataria, from New Delhi, said that it took up much of his time. "But I found Quantitative Aptitude lengthy too," he said. Deepak found English and General Awareness to be more scoring.
The general feedback about QA was that it was quite lengthy as well. Apparently, 3 sets of DI were asked and a Double pie chart was also asked.
As for the English Section, there were 2 reading comprehension passages. Of these, one was based on the SBI PO pattern, while the other was on the old pattern. As for General Awareness, the Section was packed current affairs of recent months.
To conclude tough and difficult were the two buzzwords at RBI Grade B Phase 1 exam.
According to a recent poll conducted on PaGaLGuY, as of June 17, 71% of the 278 candidates said that the paper was difficult.
How was your RBI Grade B 2017 Phase-1 exam?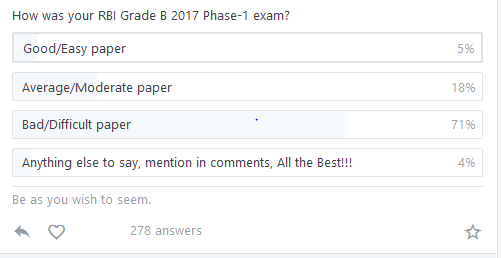 PaGaLGuY wishes you All the Best for your results!!!