TN medical aspirants NEET fate lies in President's hand
With less than 11 days to go for the online application of National Eligibility cum Entrance Test (NEET) to conclude, medical aspirants in Tamil Nadu are in a fix. After the floor test on February 18, 2017, the tumultuous Tamil Nadu political scenario settled Edappadi K. Palanisamy became Chief Minister. Soon after he took charge, he pushed the TN bills passed in assembly  for the President's assent to make them an act. Governor of Tamil Nadu C. Vidyasagar Rao has already given his assent for the NEET bills and thus, it is awaiting the President's response, which will exempt Tamil Nadu from NEET.
The Supreme Court, in its judgment on April 28, 2016 had mentioned that NEET will be the single entrance test for admission in MBBS and BDS courses across the country. However, Tamil Nadu has been admitting medical aspirants based on their marks attained in board examination until this year, making the shift a little difficult for them to grasp.
Speaking to PaGaLGuY, Educationist P B Prince Gajendra Babu mentioned how unfair it is for most of the medical aspirants in Tamil Nadu to compete with students from rest of the country. "There is a great disparity in expenditure from the central government for Tamil Nadu and rest of the country. After a child comes to higher secondary schools, they need to face certain infrastructural issues in government schools in the state," said Babu. He further mentioned that there is a need to establish equality for the medical aspirants to achieve equality in the standard of education before imposing a central examination like NEET.
In a recent report, it was mentioned that only 0.7 percent of MBBS students in government medical colleges and 1.1 percent in private colleges come from government schools across Tamil Nadu. There are more than 6,000 MBBS seats from 48 government and private medical colleges in the state.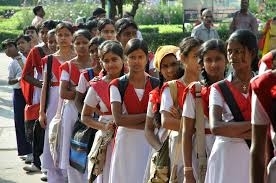 "Economically and socially backward class people lack resources and they have no money to spend on coaching and apply for a NEET examination. Their eligibility is already being checked through their higher secondary education, then what is the need for another eligibility test! Isn't this eliminating candidates rather than making them 'eligible'," questioned Babu. Tamil Nadu, until last year, admitted medical students based on their board examination marks. When asked about medical aspirants who take up other medical entrance exams like AIIMS and JIPMER from the state, Babu replied, "A minuscule number of students apply to these institutes which have a limited number of seats themselves. It is generally for the affluent section of society."
Talking about the state of confusion that the aspirants in Tamil Nadu are presently facing, Mohamed Khader Meeran, National Coordinator for Indian Medical Students' Association said, "It is creating confusion amidst aspirants in the state. The President can not give assent to the matter until and unless the central ministry approves it. Considering the present political scenario in Tamil Nadu, it is expected that centre will not approve it this time." Drawing lines to how the Jallikattu ordinance was passed, Meeran further stated that both centre and state need to be on the same page to make the President pass the bill as an act.
Iswarya Sunder, a NEET aspirant from the state was clueless about the application procedure to follow. "We can only wait and watch as to what the government and President decides about NEET in the days to come," said Sunder.
"Contemplating on the current political scenario in Tamil Nadu it is unlikely that the President will pass the bill to exempt NEET for the state this year," concluded Meeran.