The Radiation Therapy and Oncology department students of the Post Graduate Institute of Medical Education and Research (PGIMER), Chandigarh took out a Cancer awareness rally on November5, 2016. The rally was part of the awareness programme that these students took to celebrate National Cancer Awareness Day, which is observed on November 7 every year.
​
PaGaLGuY talked to one of the second year student Amit Kumar Dubey from the Radiation Therapy and Oncology department in the college, who was part of the team. "We were a group of 30 students who took to the streets and tried to spread awareness about cancer among people through street dance and Q&A with people present. We discussed about lung and oral cancer in our rally and carried a crab shaped puppet," said Amit.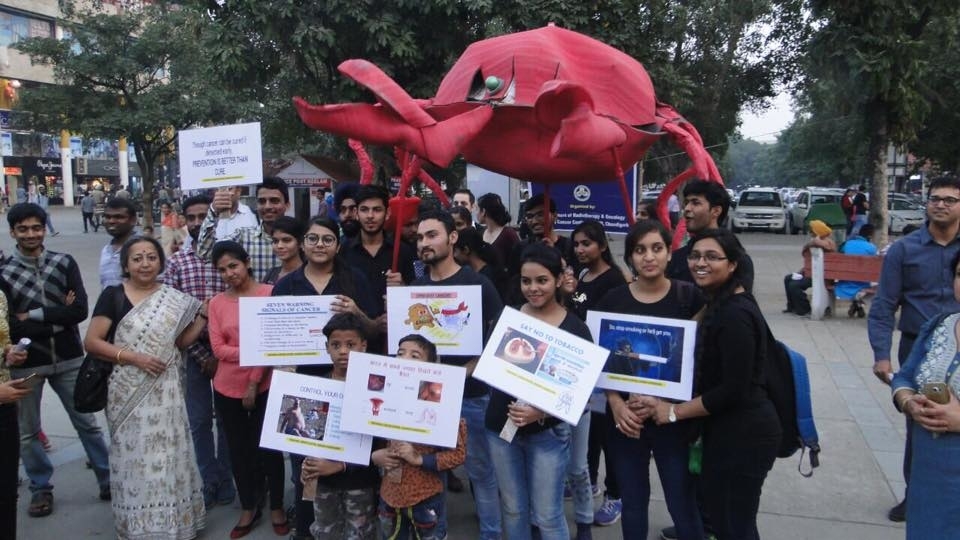 PGIMER, Chandigarh in partnership with RAD-AID International runs a unique mobile women's health outreach programe named Asha Jyoti as well. It provides screening services such as X-ray, ultrasound and mammography to rural women with no access to such healthcare facilities and refer them to PGIMER for treatment. On asking why they choose November 5 instead of November 7 for the rally, Amit pointed out, "On Saturday we get a half day in college, so we decided to go for the awareness on November 5. Besides spreading awareness doesn't need any particular day, it should be a regular affair."
​
The Bachelor Degree students of the department from PGIMER had conducted such awareness drive, a couple of times earlier. "The intention of our rally was to make people aware about different stages of cancer and how they can fight it if they take right measures at the right time," concluded Amit.
​
​
​
​
​
Leave a comment if you face any problem related to downloading admit card for the PGIMER 2017 examination.
Follow our PGIMER 2017 discussion board for regular updates.