NEET 2017: Gujarat HC reserves order and adjourns matter till June 13, results possible only after court order
The Gujarat High Court on Tuesday, June 6 reserved its order till May 13 after hearing the National Eligibility cum Entrance Test (NEET) matter for over 3 hours. The Gujarat High Court stated that since the Madurai branch of Madras High Court has already put a stay on the matter till June 12, it will honour its judgment. The results of NEET UG 2017 which were scheduled to be out on June 8, will not be published now till the Madras High Court passes its order. 
PaGaLGuY got in touch with the petitioner lawyer Jigar M. Patel who is representing the 40 petitioners who filed the case in Gujarat High Court claiming that the Gujarati and English question papers were different in the NEET examination conducted on May 7 by Central Board of Secondary Education (CBSE). "Contemplating over the matter, the sitting judge Justice S G Shah heard both the parties today and was about to pass his judgment. But he refrained due to the fact that the matter is already sub judice in the Madras High Court. It will further hear the matter on June 13," said Patel.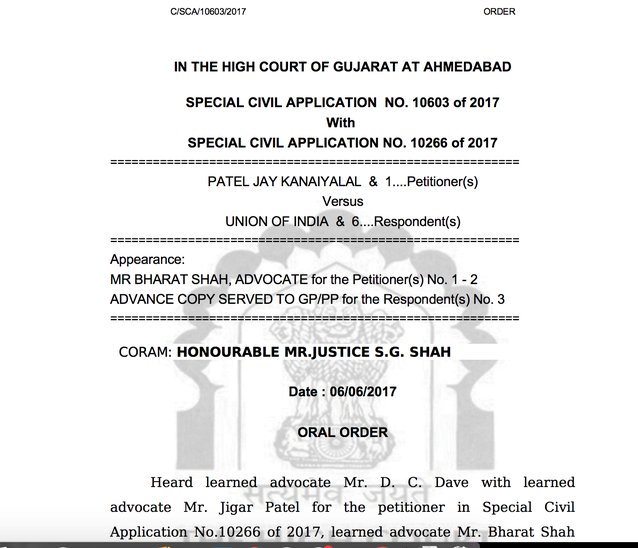 He further informed that the stay came as a result of deliberation from the side of CBSE which informed the court that they haven't prepared the result yet keeping in mind the Madras High Court order. PaGaLGuY also got in touch with one of the advocates representing the respondents Presh M Darji as well, who declined to speak about the case. "The matter is still sub judice and I would not be able to comment anything about the case as of yet," said Darji. 
The Gujarat High court in it's directive today stated "there is no urgency so as to take up the matter immediately, when Madurai bench of Madras High Court has ordered to list such matters on June 12." One of the respondent's Directorate General of Health Services advocate V D Nanavati also asked for some time to file appearance and counter affidavit on court. Advocate Mehul S Shah, representing CBSE in the court was told to present his further arguments on court in the next hearing date (June 13). 
"CBSE tried to justify its stand and contended that there is no discrimination in the question paper, but the judges mentioned that there should have been only one paper in the examination," further pointed out Patel.
PaGaLGuY will keep you updated about the NEET 2017 matter in detail. Follow this thread for further updates.