NEET 2017:Aspirants win as Ministry notifies NEET 2017 will be counted as first attempt
Image Courtesy( Vivek Pandey) 
Amidst pressure from National Eligibility cum Entrance Test (NEET) aspirants and parents across the country, the Ministry of Health and Family Welfare, GOI, has notified today that the NEET 2017 attempt cap has been abolished. In an official notification released by the ministry, it has been said that the Ministry has sought clarification from MCI in this regard.
MCI has clarified that the previous attempts of the students in NEET/AIPMT should not be counted. Hence, those aspirants appearing for the NEET 2017 will be the first attempt for all the candidates, irrespective of their previous attempts.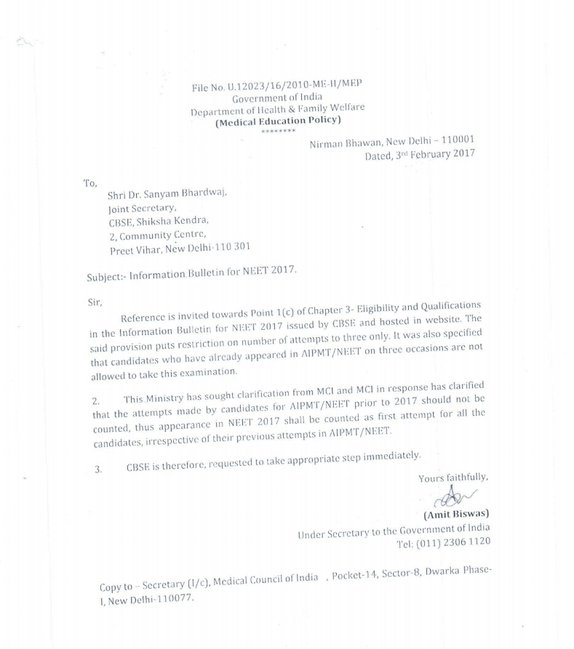 The Eligibility and Qualifications sections in the Information Bulletin of NEET 2017, released on January 31,2017, had mentioned that those students who have appeared thrice in AIPMT/NEET will not be eligible to apply for the NEET 2017 exam . After the announcement, there were widespread protests organised by NEET 2017 aspirants in different parts across the country. Social media also erupted with tweets and posts from NEET aspirants who would miss their examination this year due to the regulation imposed by the CBSE (Central Board of Secondary Education).
​
Candidates who couldn't apply for NEET 2017 can do so after necessary changes are made in the online application by CBSE. The process to which has been intimated by the ministry to CBSE.