NEET 2017: What could the TN assembly passing NEET bills mean for aspirants
On February 2, the Tamil Nadu assembly unanimously adopted the two NEET bills through voice vote. Passing of the bills mean that the state will be exempted from accepting NEET as the only exam for admission to MBBS / BDS courses. But the fate of the bill is still hanging until it becomes an Act.
NEET has been tagged as the central entrance examination for medical admission across the country by the Supreme Court. Any ordinance or state bills would have to be approved by the President in order to be passed and converted to an Act. The two bills, Tamil Nadu Admission to MBBS and Dental Courses Act, 2017 and Tamil Nadu Admission to Postgraduate Courses in Medicine and Dentistry Act, 2017, were unanimously voted optimistically to be passed by the assembly. While the first bill mentioned the continuation of the current medical admission procedure through the board exam results of candidates, the latter advocated approving admission to PG medical courses based on marks attained in MBBS / BDS courses.
Speaking to PaGaLGuY, an official from the Health & Family Welfare Department, Tamil Nadu informed that they haven't received any information regarding the NEET bill as yet. "The discussion regarding the bill is ongoing and although it has been adopted by the assembly, it still needs assent from the governor. There is no official information that has been conveyed to us by the state government as yet. Updates will be posted on the official website when they arrive," said the official.
Ishwaryaa Sunder, a NEET aspirant from Coimbatore, Tamil Nadu, is not happy with the tabled bill. "I am against the bill! Candidates should not be selected based on the class 12 marks, as it is not the right criteria when it comes to medical studies. Our education system will never improve or change if we stick to older selection procedures. I am in support of NEET," said Sunder. She is taking NEET for the first time and is presently preparing at a coaching centre in Coimbatore.
Like Sunder, other aspirants also spoke in favour of conducting NEET over selection through board examination marks in Tamil Nadu.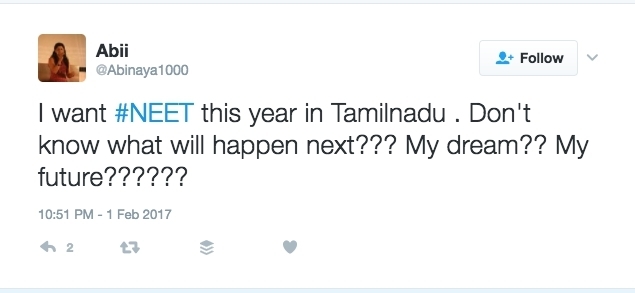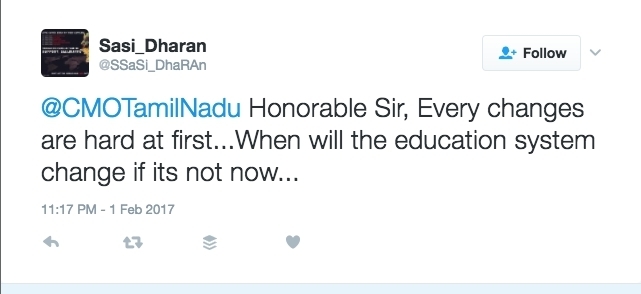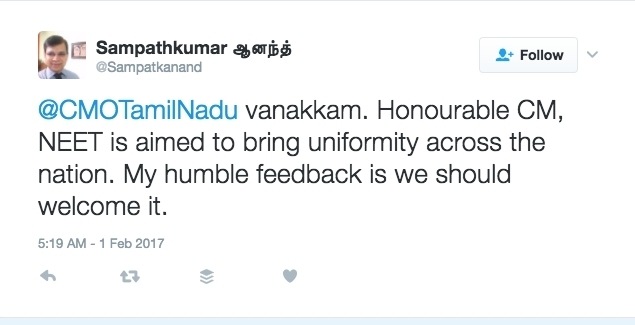 If the bill gets the President's approval, it could set the stage for other states to bypass the NEET exam. NEET protests against capping of attempts gathered momentum across the country, which forced the Ministry of Health to change NEET 2017 as first attempt .
One aspirant, Parijat Ghosh, has tagged the West Bengal CM Mamata Banerjee on Twitter. He has referred to a tweet from an aspirant in Karnataka, demanding the elimination of NEET from Karnataka as neighbouring state Tamil Nadu has sought.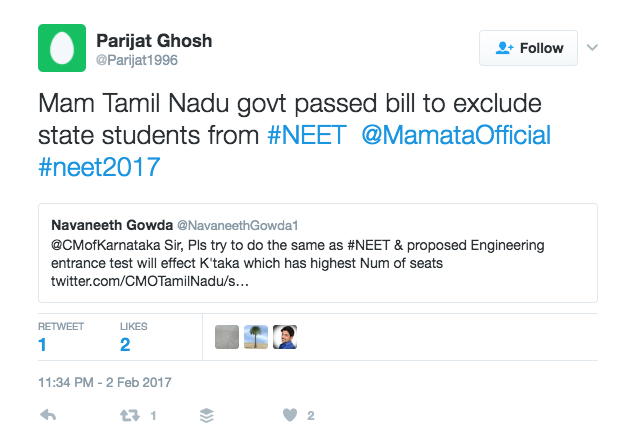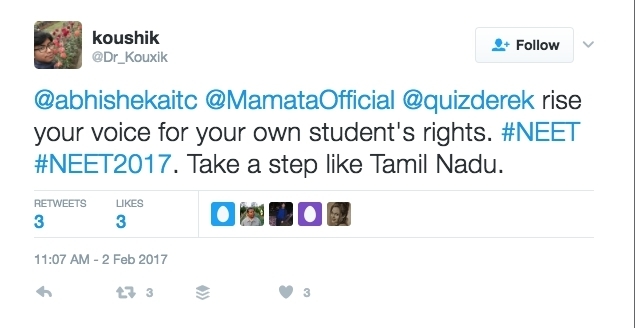 Although the Chief Minister of Tamil Nadu O Panneerselvam has promised that the house will take necessary steps to get the bill passed, there will be a tough legal battle ahead for them.