NEET 2017: SC adjourns upper age limit issue till March 20, aspirants worried as online application ends on March 1
The two-judge apex court bench comprising of Justice Dipak Misra and Justice R Banumathi today adjourned the NEET (National Eligibility cum Entrance Test) matter till March 20 asking for substantial reasons and evidence from MCI and the centre, based on which they implemented the limit. With only two more days left before the NEET 2017 application procedure ends, aspirants were hopeful of getting a judgment today. Aspirants who are over 25 years of age, are not allowed to fill application forms. However, now they will have to wait for the Supreme Court judgment, which is expected to come up on March 20.
However, the court has mentioned that if the order goes in favour of the petitioner, CBSE (Central Board of Secondary Education) will have to open the application procedure for those who have lost the opportunity to apply because of the age limit. "Deferring the case is resulting in decreased morale of aspirants' hopeful of getting a chance to take NEET 2017. It is putting them under additional stress and harming their preparation for the year," said Dr Amit Gupta, an RTI activist who is spearheading the petition filed in Supreme Court.
With a little more than two month's time before NEET, aspirants will be wondering whether to prepare for the exam or go ahead with other options. As expected, the aspirants are not pleased by further extension in the date of judgment from the court. Some of them took to Twitter to outline their concern regarding the same,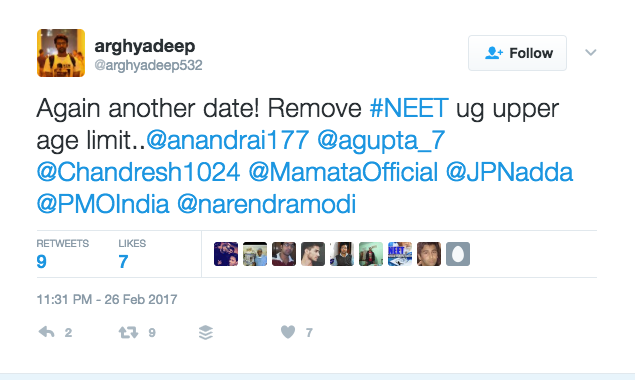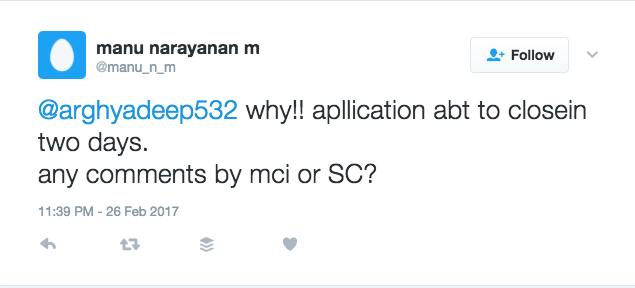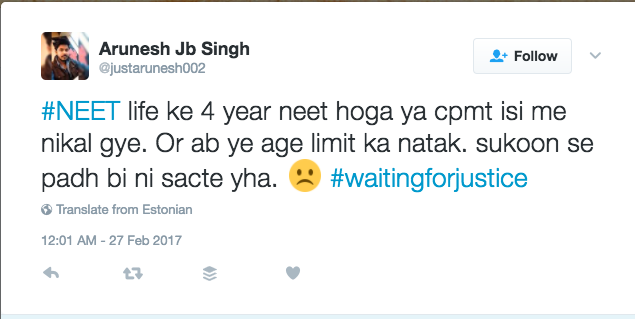 The Allahabad High Court, hearing a petition filed on the upper age limit, had earlier on February 22, reserved its judgment and chose to wait for the apex court to come to a decision. Keeping the judicial hierarchy in mind, the Allahabad High Court waited for Supreme Court to hear the matter on February 27. It would be interesting to see what the two judge bench in Allahabad High Court decide about the matter, after apex court's adjournment today.
"Although we are hopeful of a positive order in our favour, it would have been better if it came out today. There is little more than 2 month's time left before the examination and a section of aspirants are still not sure about how to proceed with their preparation. My suggestion to them will be to continue preparation and remain stress-free," concluded Dr Gupta.