NEET 2017: Demand for re-NEET escalates as medical aspirants cry foul over difference in regional question papers
The National Eligibility cum Entrance Test (NEET) seems marred with controversies since the year it was introduced (2013) as a single entrance examination for medical studies in the country. This year was no exception. Frisking an 18-year-old girl in Kannur, Kerala outside the examination hall made national headlines, resulting in uproar among the aspirants. Although Central Board of Secondary Education (CBSE) came up with a clarification stating the event is a result of 'overzealous female frisking staff of the school (exam centre) involved', it has not spoken about the different question papers in different regional languages or the alleged question paper leak yet. The Education Minister of West Bengal Partha Chatterjee has openly condemned the centre for setting completely different questions for aspirants who have opted for Bengali as their language option. Not only aspirants in West Bengal, but those who have taken in the exam in Marathi and Gujarati languages also claimed the regional questions to be more difficult than the English ones.
PaGaLGuY spoke to candidates who took the examination in Bengali on May 7 and tallied the question code Y for both Bengali and English and question code A for both Gujarati and English. Questions in both the mediums were almost entirely different and had very little in common. "I have both the Bengali and English questions with me, and if you look at it without any bias, you will find out how strikingly different and tough the regional question paper was," said Srestha Choudhury, an aspirant from Barasat, West Bengal. Choudhury is a repeater who got the chance to study BDS (Bachelor of Dental Surgery) last year, as she couldn't manage to get into MBBS. "It seems this year as well, I will not be able to get MBBS because of the biased attitude of CBSE," she added. She informed that along with Y code, W, X and Z were the other code numbers for Bengali language questions.
The CBSE decided to conduct the NEET this year in 10 languages including English and Hindi. There were 12 different sets used for candidates who took the examination in English and Hindi. "I checked the English language questions today and it was quite easy when compared to the questions we got in the Bengali paper, and it was clearly unjust. I would have said the same if our questions were easier," said another aspirant Avishek Chatterjee from Bankura, West Bengal.
"We knew NEET will be the single examination for medical admission this year and thus we prepared hard from NCERT books this year. However, questions set in the regional language were mostly not from NCERT and those taking the examination in English got most of the questions from NCERT," said a furious Choudhury.
Aspirants, as well as parents are not satisfied with the series of events surrounding NEET 2017 and criticising the move of CBSE over social media.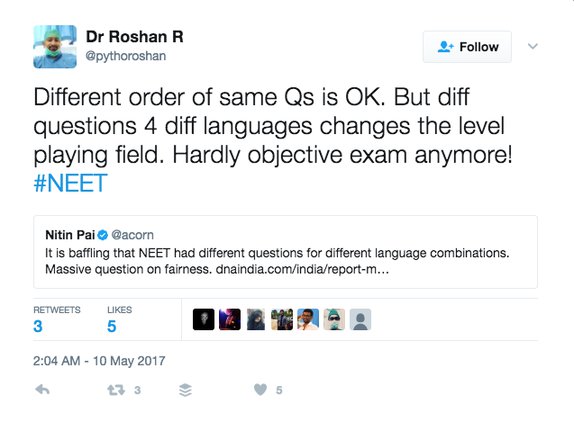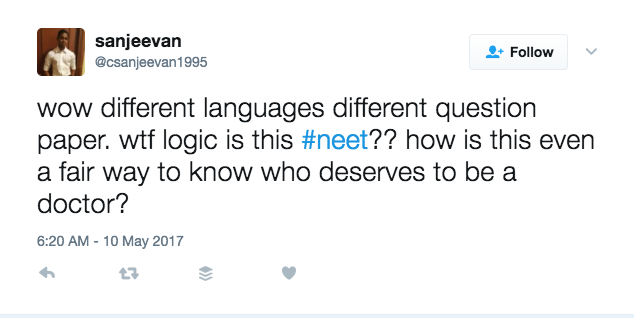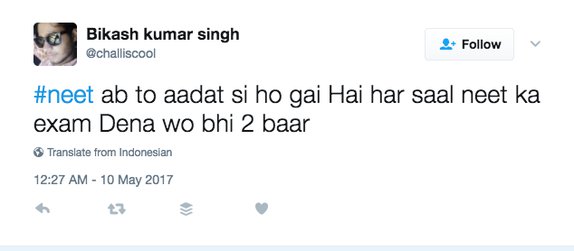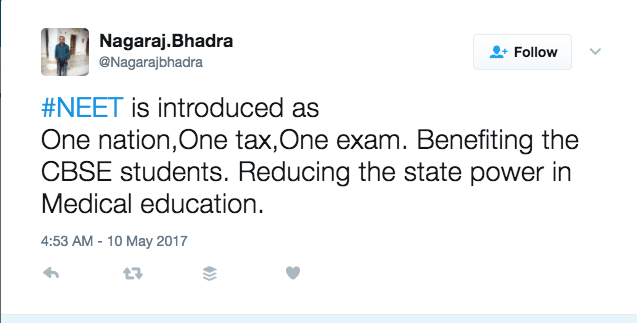 Questions are being raised over the steps taken by the CBSE about the alleged paper leaks. Protests took place at different parts in Uttar Pradesh today, demanding fresh opportunity to take NEET.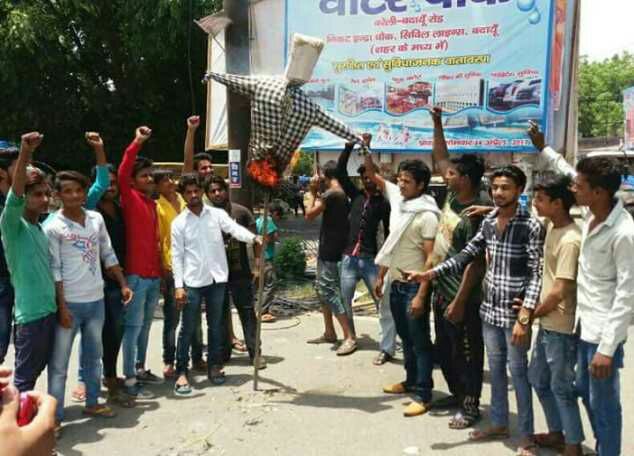 ​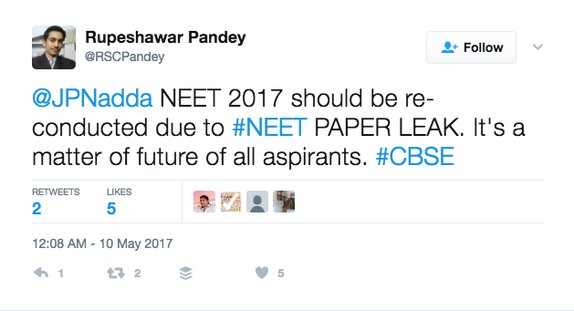 A peaceful protest has been planned to take place on May 12 in front of CBSE office in Delhi in protest of the paper leaks. "We will organize a peaceful protest in Delhi demanding our rights for a fare examination," said another medical aspirant Vivek Pandey, who took NEET this year. 
​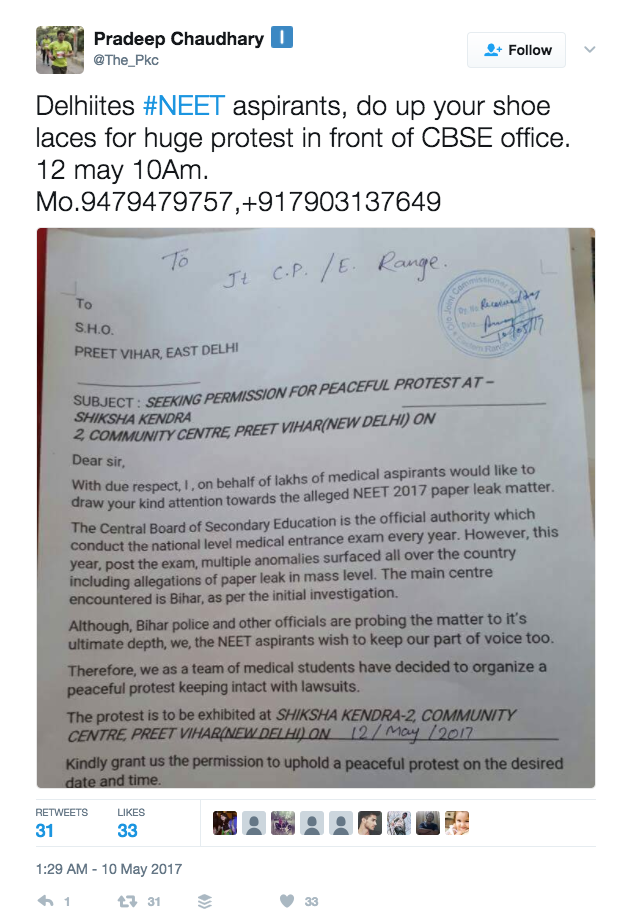 "It doesn't matter whether the questions asked in NEET are difficult or easy, there should have been equality in difficulty level in each paper. One exam one question should have been the norm," concluded Choudhury.
​