Giving more scope to college-wise admission in deemed university institutes, DMER (Directorate of Medical Education & Research) is not going to carry out a second round seat allotment for the vacant MBBS/BDS seats. The first round of counselling and selection list was published on the website on October 3, 2016. DMER was given the responsibility to conduct centralised counselling for vacant seats in the 18 medical and dental institutes across the state by the Supreme Court on October 28.
There were 855 (449 medical and 406 dental) seats vacant till October 4 in deemed institutes, when the centralised counselling started. The admissions based on the selection list uploaded by DMER on their website was supposed to get over by 5 pm on October 5. There is no list as of now in the DMER website, stating the number of vacant seats remaining after the conclusion of the first round of admissions.
Director of DMER, Dr. Pravin H. Shingare, while talking to PaGaLGuY said, there will be no second round of counselling for the vacant seats. "The remaining seats in the deemed university medical and dental institutes will be filled through college-wise counselling now," said Dr. Shingare.
Medical aspirants were given a total time of two days to take up admission in the 855 vacant seats. It is expected that a good number of seats will still remain vacant, which will then be filled by the colleges separately. The Supreme Court on September 28 had ordered that the remaining vacant seats in the state should be filled though centralised counselling before October 7 by the state authority.
Some medical aspirants have taken their anger to Twitter stating that this move was clear violation of the Supreme Court order'. One medical aspirant, Satyam Singh has tweeted that not publishing the second seat allotment list is clearly contempt of the SC order passed on September 28. Another medical aspirant Akshay tweeted that it is unfair to them as DMER is not conducting the second round seat allotment.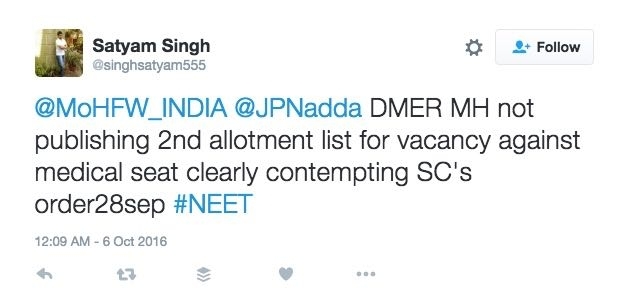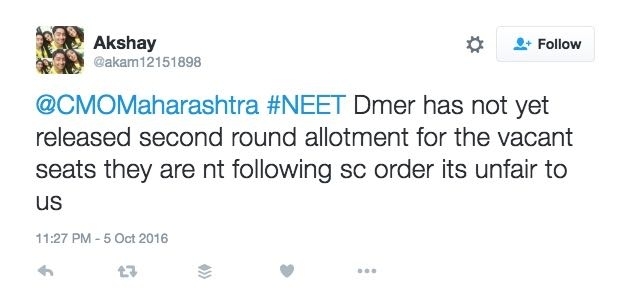 PIMS Rural College, Loni is the only deemed institute that has made the number of vacant MBBS and BDS seats after the conclusion of first round of admission. 32 MBBS and 84 BDS seats are still vacant in the institute, which will now be filled through mop-up counselling at the institute from October 6. Though the websites of D.Y. Patil Medical College, Krishna Institute of Medical Sciences and Dutta Meghe Institute of Medical Sciences have notified about the mop-up counselling, they have not disclosed the vacant number of seats as of yet.
"We are following the Supreme Court order to complete the admissions in deemed university medical/dental institutes by September 7. There is no way we can conduct a second round of seat allotment. We have declared the same on our website before as well," concluded Dr. Shingare.