Modi's address at KLE Society impresses medical students
Addressing a gathering at the Karnataka Lingayat Education Society, Belgaum centenary celebration, PM Modi announced that people will have to face the difficulty due to demonetisation for a while. "I have told you at the day of announcement, that the difficulties will be there till December 30. But, the short term pain will provide long term gain," said Modi.
Modi warned dishonest people with stacks of black money saying that this is not going to stop after December 30, and he will come up with more such measures to curb the social evil. Talking about the demonetisation of Rs 500 and 1000 notes he further stated that PM Jan Dhan Yojna was initiated to make more people aware of using plastic money through Credit/Debit cards. "I have always favoured and talked about creating cashless society," said Modi.
Talking to PaGaLGuY, Chintan Patel, a Post Graduate student of Orthopaedic Surgery department in Jawaharlal Nehru Medical College, Belgaum said that it was a spectacular speech by the Prime Minister. "Although there are problems that we are facing currently, the situation is quite manageable. I totally agree with the points made by the PM as this will drastically curb down the donations asked in various institutions," said Chintan.
Modi further announced that the government will provide all support needed to 10 private and 10 government universities, who can come up in the list of top 100 universities in the world. "I will make sure that all the red-tape is avoided and financial support is given to the universities promising to reach the list of top 100 universities in the world," assured Modi.
Addressing the students present in the crowd, Modi noted the importance of research. He invited the students and government universities to come forward and innovate, that will bring international recognition for the country. He promised to provide concession and scholarships for the innovators as well. "India was known as a country of snake charmers a hundred years ago, but now the youth of India has transformed the world with its proficiency in computer," said Modi.
Students of the KLE Society took twitter to express their happiness about the address of PM Modi. A Physiotherapy student at KLE University, Neekita Marajkar praised about PM Modi and his personality in her tweet.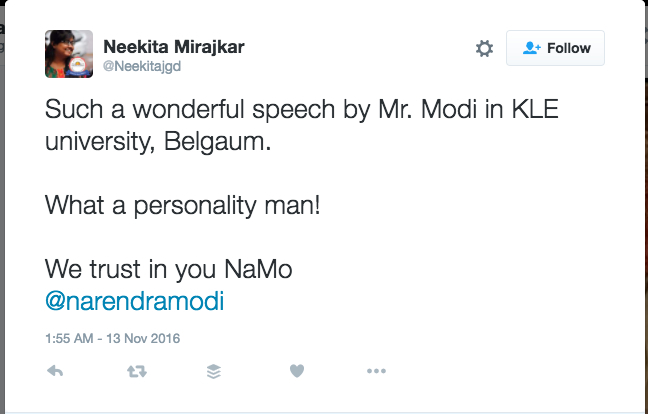 One ex-student of the KLE tweeted he is proud that he was a student of KLE, after the speech.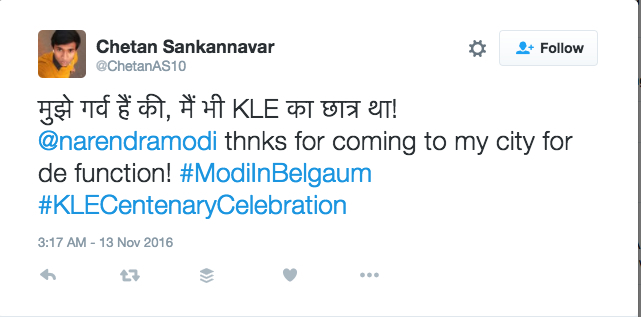 Founded in the year 1916, KLE Society provides higher education in engineering, medical, information technology, management, tourism, agriculture etc. through 254 institutions across the globe. With over 1,25,000 students and 16000 faculty members, KLE is one of the largest education societies in the country.