MBA aspirants prefer top 5 IIMs over XLRI
Xavier Aptitude Test or XAT is an MBA entrance exam conducted on a national level by XLRI Jamshedpur for the admission to post-graduate management programmes at over 150 B-schools in India. This year it was conducted on January 8 and the official XAT 2017 Answer Key and Question Explanation was released on January 16, 2017 by the institute. Since then students have been waiting in anticipation for the results which is likely to be declared towards the end of this month. After all, the institute is considered to be at par with the Indian Institute of Managements (IIMs) for its MBA programme.
In its tryst to find out if students prefer XLRI over the top 5 IIMs, PaGaLGuY conducted a poll today. Out of the 312 students who participated in the poll (at the time of writing), 212 preferred seeking admissions to the top 5 IIMs, while 100 chose XLRI. Some even included other colleges like FMS,MDI and SP Jain, in the debate of the best MBA colleges that ensued following the poll, although they ranked it after XLRI. See images below.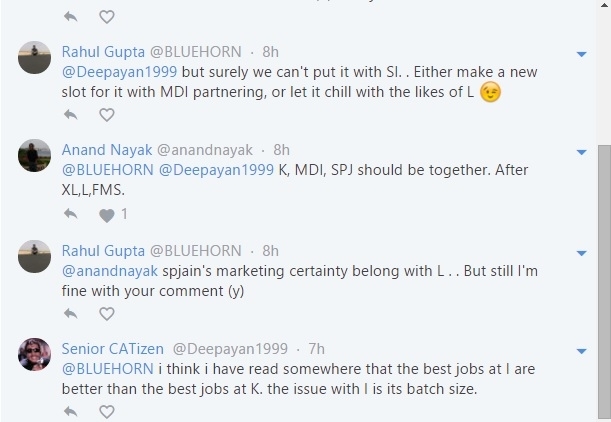 Those disappointed with their CAT and SNAP scores are definitely waiting in anticipation for the XAT 2017 results.
Mayank Upadhyay who got a 99.13 percentile in CAT this year, is eagerly waiting for his XAT results. "I haven't received a call from the top three IIMs, thus XLRI is my only option now," he said.
The reason for the preferences as expressed by those who polled on PaGaLGuY could also because XAT has traditionally been a tough exam. That the IIMs are trying every trick in the book to rein in more women, XLRI is not known to do anything out of its way. Rarely do aspirants who get an admit into XLRI decide not to take it. The PaGaLGuY rankings, when they existed always listed XLRI in the top five, often third.
In fact, XAT as an exam is given more credit than CAT in the market. This could be because being a pen and paper exam, issues like normalisation do not figure.
Another big reason why the perception is tilted towards the IIMs is that XLRI itself does not go out of its way to publicise the XAT exam or XLRI as an institute. Traditionally shy of media attention, it likes to portray itself as an institute that does good work, silently.
​