Majority of PaGaLGuY users come out in support to change IIM admission procedure
PaGaLGuY conducted a poll today in order to find out how many students were in support of an online petition started by Ajay Agarwal, a 2016 CAT candidate to base Indian Institute of Management (IIM) admissions entirely on Common Admission Test (CAT 2016) scores. As per admission criteria in IIMs, currently, 20-30% weightage is given to a candidate's board exam scores and work experience. 
As of now 222 CAT 2016 aspirants  participated in the poll out of which 130  CAT 2016 aspirants  supported the petition and the remaining 90 opposed it. 
As on January 17, 2017,  morning, the petition to Human Resource Minister, Prakash Javadekar and Ashish Nanda, Director, IIM Ahmedabad, has found over 250 supporters. The goal of the petition is to receive 500 signatures before it is present to Javadekar
In support of the petition a PaGaLGuY (PG) user, Aman Garg said, "The petition is a great initiative. While the weightage can be given to work experience, GDPI etc, giving such huge weightage to past educational and work experience should be avoided." PG user and CAT aspirant, Kumar Kanishka Singh argued, "What about the difference in the grading system of different colleges and universities? In one board, hard work can fetch you over 90 percent and the same hard work may fetch you only 70 percent in another board. So what about those who get a lower percentage due to this?"
PaGaLGuY user HarshB @hbhatt94 was also of the same opinion. "How does consistent academic performance during school days indicate better fitment for a B-school? It is absurd logic!," he exclaimed in support of the petition. 
Similarly, many other PG users and students have opined in support of the petition asking for a change in the current admission process. See images below.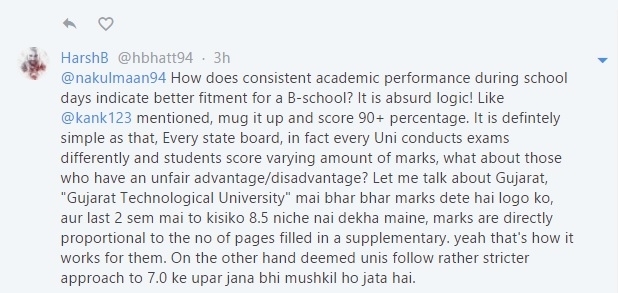 About CAT
This year, over 2,30,000 students applied for the Common Admission Test (CAT) to Indian Institute of Management (IIM) and other leading business schools. The exam was conducted on December 4, 2016 and the results were announced on January 9 2017.
​
​