'It was a mistake' says IGIMS Director on requirement of Virginity declaration on job application
(Image Source: ANI)
A declaration form of IGIMS (Indira Gandhi Institute of Medical Sciences), Patna created a furore on social media since yesterday. Reason: The institute wanted to know from the candidates applying whether they are virgin or not!
​
The institute was left red faced as the news  went viral overnight and people asked questions as to why knowing such a personal detail is important for a job at the institute!
PaGaLGuY got in touch with the Director of IGIMS N R Biswas, who immediately admitted that it was a mistake on their part. "I was not in town and came back from leave yesterday. As soon as I got to know about the objections raised by applicants, I ordered the medical superintendent to change the clause immediately," said Biswas.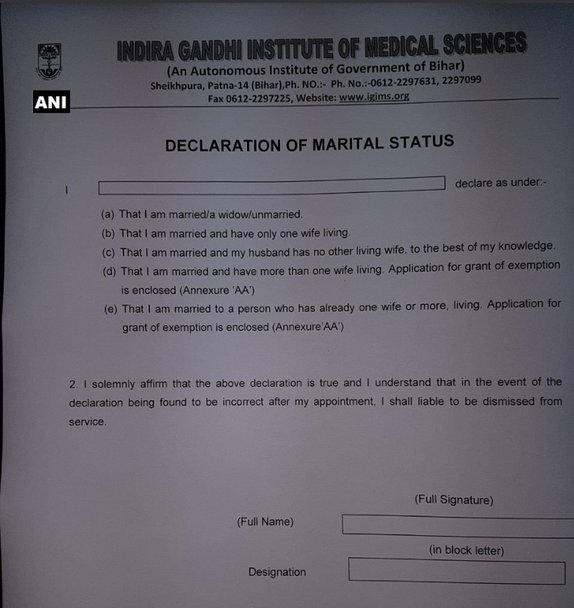 (New form issued by the institute. Image Source: ANI)
However, this is not something new. The IGIMS was established in the year 1994 and is one of the major super-speciality hospital in the state. Since it's inception, the institute has been asking for a declaration from the applicants about their virginity. "We have copied the form content from the same declaration form used by AIIMS, Delhi under Central Services Rules (SSR). In all these years we have never come across such a furore over the issue," added Biswas.
Adding fuel to the controversy, Bihar Health Minister Manis Pandey was quoted saying, 'Virgin' means 'Unmarried' or Kuwari, and it is perfectly fine. The institute was quick to respond and came up with a new declaration form today. Defending the mistake Biswas added, "We have removed the term 'virgin' from the declaration form and have put unmarried instead."
(Image source: IGIMS website)
However, this is not the only objectionable detail in the form. The form further wanted to know 'how many' wives does the applicant have! Although the word 'virgin' is removed from the form, the other options remain the same, making it difficult for doctors and staff who want to join the institute to disclose details too personal!