Gaokao: One of World's toughest exams draws a huge 9.4 million candidates
On June 7, 2017 a carnival of sorts were witnessed on the roads of China, as the biggest examination extravaganza began in the country. National Higher Education Entrance Examination, which is better known as Gaokao among the Chinese people, is claimed to be the toughest exam of China. Taken up majorly by the freshly passed higher secondary school students of the country, Gaokao is their pass to desired colleges for higher studies. 'The Guardian' report on Gaokao will tell you exactly how difficult and tough this examination is in China.
https://www.theguardian.com/world/2016/oct/12/gaokao-china-toughest-school-exam-in-world
Like the millions of Chinese students, teen sensation of a boy band TFboys, Wang Junkai (17) is also supposed to take it this year. In order to get admission to an acting school this pop-star of China needs to first clear the hurdle of Gaokao, like others. 
http://edition.cnn.com/2017/06/07/asia/china-gaokao-boyband-wang-junkai/
Although the majority of Gaokao takers belong to a certain age, there is no age barrier set for the exam. The website straitstimes.com carried a story of a Chinese man taking the exam at the age of 50. Unlike many others, this is his 21st attempt.
http://www.straitstimes.com/asia/east-asia/despite-20-failed-attempts-at-gruelling-exam-50-year-old-businessman-tries-chinas
Gaokao, which is being taken up by a staggering 9.4 million students in the country this year, is full of such interesting stories. Wang Nana (35) is other such woman, as reported by the website China Plus, who would take Gaokao this year after 14 years. Her story- She was a victim of identity theft in 2003 and someone else took admission in her place.
http://chinaplus.cri.cn/news/china/9/20170606/5882.html
Gaokao is a nine hour long examination that gets conducted in two day's time, based on which students get admission in their desired courses in higher educational institutes across the country. It doesn't only become a gruelling test for the kids but parents also need to be on their toes. This photo story by studyinternational.com will give you an outlook of how the roads of China looked with queues of anxious parents and students in line waiting for their turn to get inside the centres of examination. 
https://www.studyinternational.com/news/pictures-chinas-grueling-national-college-entrance-exams-gaokao-begins/#FCs2UU5fOAZfv8cf.97
To make arrangements for such number of students there are people who helped happily as well. As reported by ShanghaiEye, a small town named Gansu in Longyang district ran700 taxis for free during Gaokao for students and parents.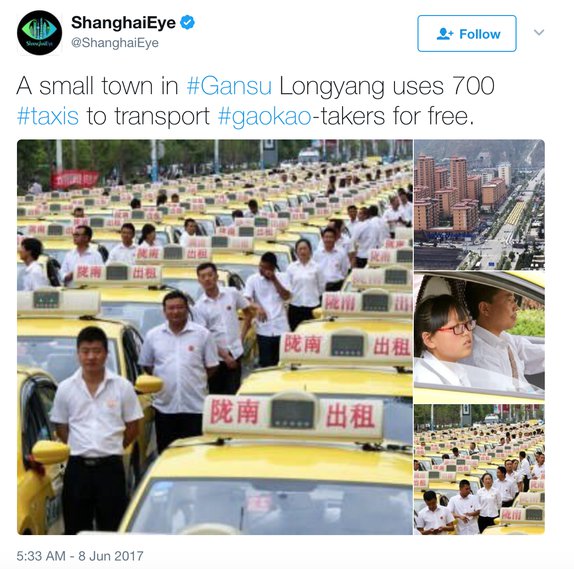 ​
Social Media also reacted to the exhausting and complicated entrance test today on June 8, the second day of the marathon examination.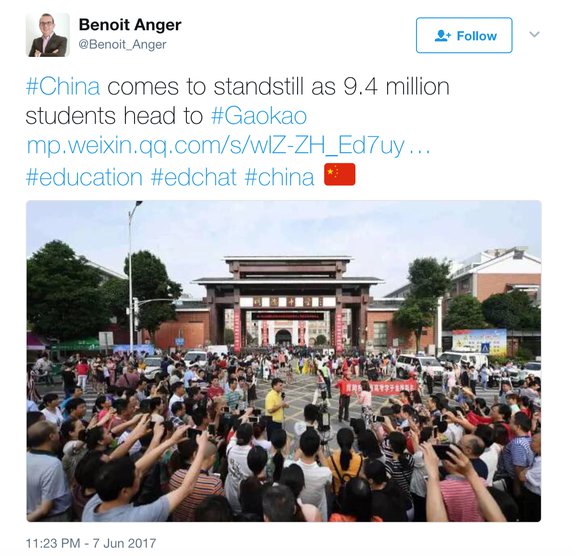 A student who took the examination tweeted about his happiness of getting done with the exam. 

While students took the examination inside, parents felt the sweltering heat outside waiting anxiously for their wards to finish.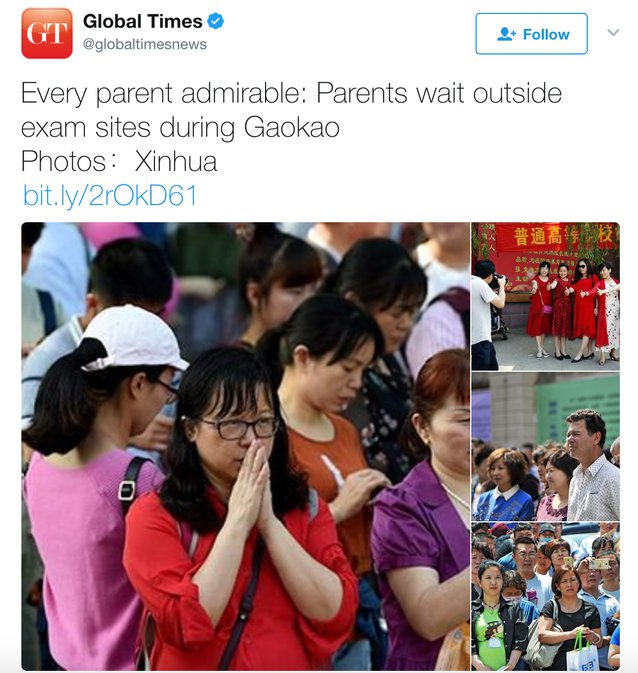 A lot of these pictures would look quite familiar to our country during exam seasons. But the scale at which Gaokao takes place, no examination in India can go close. The two biggest common entrance tests, Joint Entrance Examination (JEE) for engineering and National Eligibility cum Entrance Test (NEET) for medical admission, is taken up every year in India by only around 12 lakh aspirants. Even if we compare Gaokao with competitive exams like SSC, UPSC and Banking, the former is a sure winner. 
PaGaLGuY wishes all the Gaokao takers a very best of luck for their future.