Dear Readers,
The Xavier Aptitude Test (XAT) 2016 was
successfully conducted on January 3, 2016 from 10 AM to 01:30 PM.
Most aspirants would like to know about the
questions asked, the level of difficulty and the cut-off expectations. In this
article, we provide you with a comprehensive (section-wise and topic-wise)
analysis of the exam. You can also find the expected overall and sectional
cut-offs for some of the prominent institutes which accept XAT scores.
Overview
·
The number of questions was
lowered to 78 from previous year's 83, and the time limit was extended by 30
minutes.
·
Negative marking of 0.25 for
every incorrect answer was applicable.
·
Even though it may hardly alter
a candidate's overall score, a meagre penalty of 0.05 marks for un-attempted
questions was also added (after the first 13 such questions).
·
The test was divided into two
broad parts. The first was the main XAT paper, in which the questions were
categorically divided into three sections – (i) Verbal and Logical Ability,
(ii) Decision Making and Analytical Reasoning, and (iii) Quantitative Ability
and Data Interpretation. The time given to solve this section was 170 minutes.
·
The second part consisted 25
questions. It had General Awareness questions and a compulsory Essay Writing. A
total of 35 minutes was allotted for this.

Section-Wise Analysis
Section I – Verbal and Logical Ability Analysis

The overall difficulty level of the English
section was similar or slightly higher as compared to last year. Some questions
required careful reading so as to eliminate the options and deduce the answer.
Certain problems in Reading Comprehension and Critical Reasoning were quite
complex and could only be solved by elimination. There was one question on
pronunciation skills as well, which was something that was not expected by
students.
Section II – Decision Making and Analytical Reasoning

The level of difficulty in the Decision
Making section was almost like the previous year. All the questions carried
equal marks. There were no long passages so the time taken was relatively less,
thereby cementing the possibility of higher cut-offs for the section. Most of
the questions ranged from easy to moderate, and only a few were difficult,
based on case studies pertaining to various domains. A variety of issues were
covered in these studies – ethical dilemmas, personal decisions and HR
problems.
Section III – Quantitative Ability and Data
Interpretation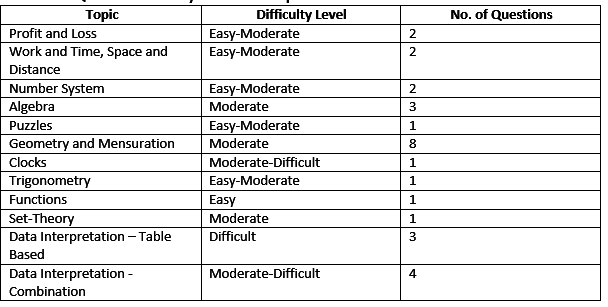 The difficulty level of this section was
moderate to tough. There were only a few direct and simply-phrased questions,
and all others posed complex problems. Quantitative Ability questions were
relatively easier, and most of them were based on Geometry, Algebra, Number
System and Arithmetic. Most Arithmetic questions were moderately easy, while
the Geometry and Algebra problems were rather tough. There were a couple of
questions based on directions and were framed in ambiguous language. In Data
Interpretation, 2-4 questions, on an average, could have been attempted in 10-15
minutes.
General
Awareness
This section had 25 questions, most of which
were in statement format. Some of them which had multiple statements had more
than one correct answer. These questions required the candidates to have known
each of the facts and posed significant challenge. Major areas from which the
questions were asked were Geography, GK, Science, Business Economy and General
Terminology. The overall section difficulty would be moderate-tough. An attempt
of 10-11 questions and a score of 7-8 can be considered decent.
Essay
Writing
The topic of the essay in this section was
– "Technology and Nature are Natural Enemies". Compared to previous years, when
the topics were philosophical or abstract, this year candidates could weigh
varied perspectives and present a logical conclusion.
Cut-Off
Analysis
The expected cut-offs for some of the
institutes that accept XAT scores are as follows:
1. XLRI
Overall cut-off for
Business Management: 30-34.
Overall cut-off for Human
Resource Management: 27-31.
Overall cut-off for General
Management Programme: 25-29.
2. XIMB
Overall cut-off for Business
Management: 28-32.
Overall cut-off for Human
Resource Management: 26-30.
3. SP Jain
Overall cut-off: 30-34.
4. GIM
Overall cut-off: 25-29
5. IMT
Overall cut-off: 28-32.
6. Great Lakes
Overall cut-off:  26-30.
To get fresh updates on your Facebook & Twitter timelines, subscribe to our pages created specifically for them. We will be posting only those exam specific links on these pages:
Bank PO:
FB: https://www.facebook.com/pagalguybankpo
Twitter: https://twitter.com/PaGaLGuYBankPO
SSC & Other Exams:
FB: https://www.facebook.com/Pagalguy-SSC-CGL-Others-879667042056262/timeline/
Twitter: https://twitter.com/pagalguyssc
UPSC:
Facebook: https://www.facebook.com/Pagalguy-UPSC-951926044840262/timeline/
Twitter: https://twitter.com/PaGaLGuYUPSC