Use Your MH-CET Score Smartly
Are you one among the eighty percent students who end up thinking that only MMS programs in Institutes accept the MH-CET scores?
While it is important that you do well for the MH-CET exams, listed below are some important things that MH-CET takers often miss out on which is using your MH-CET score smartly.
The Institute where you complete your MBA plays a significant role. So, it is critical that you don't let a good score go waste or spend another year giving the test.
Check out the Institutes that accept the MH-CET score for PGDM with excellent curriculum & placement opportunities
B-Schools offer PGDM equivalent to MBA

PGDM program opens career opportunities in Business Analytics, Business Design, Healthcare, Rural Management, E-Business among functional specialisations like HR, Finance, Marketing and Operations.

@WeSchool your chances of conversion are higher as 65% weightage is for GDPI. This is absent in MMS process. In simple words, every student from 75 percentile to 99 percentile has an equal chance of conversion in a PGDM program at WeSchool.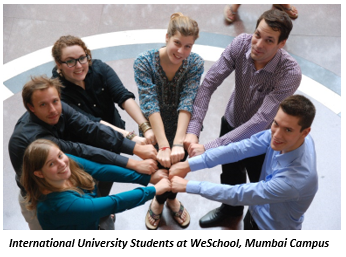 For instance, healthcare industry is one of the fastest moving sectors in India. At WeSchool, 2 specialisations under Healthcare PGDM are offered in the second year: Hospital Administration and Pharmaceutical & Life-Sciences Management. Most of the fresh graduates in medicine, life – science, science or engineering could apply for PGDM Healthcare which opens career opportunities in Management / Administration of Hospitals, Multispecialty Centers, Pharma Organizations, Medical Diagnostics, Equipment & Devices, Health Insurance, Medical Tourism, IT companies and Healthcare KPOs.
Another example is Rural Management. On successful completion of the PGDM- Rural Management (Emerging Economies) program, one can become a corporate manager and find ingenious solutions to the problems faced by the rural sector. Some notable recruiters are private banks, FinTech and auto manufacturing companies.
Some key takeaways for MH-CET takers
Do some study on the business domains and specializations under PGDM programs. If you are someone with work experience, these programs may offer you an added advantage when you eventually complete the program.
Look at the fees as an investment in furthering your future from a B-School that is well ranked, the ROI approach is too myopic. The B-School name and experience stays longer than the first couple of years and opens up opportunities and networks that go far
Use your score smartly and apply to good institutes for their PGDM apart from MMS. Don't restrict your options!
​