US university goes social; sends acceptance letters through Snapchat
One thing we can all agree upon is the excessive attachment to smartphones and social media. While most colleges around the world have started accepting the influence of social media in information dispersion, most official and confidential information is still transmitted through traditional emails or mail posts. However, a public university in the US has recently started sending acceptance letters to applicants through Snapchat. University of Wisconsin -Green Bay has taken to social media to inform its early decision applicants about their acceptance into August 2017 programmes. Going beyond Facebook, Twitter and Google+, UWGB is the first university in the US to use Snapchat for this purpose. Not just US citizens, but international students around the world have received Snapchat messages from the university that look like this. 
​
While applicants are receiving acceptance dockets through traditional form with congratulatory emails as well, Snapchat has been used by the university as an additional form of information transfer. Infact, UWGB has been using this social media handle for quite some months, to woo current and prospective students, and to increase their social media presence. It has started a Snapchat campaign to update students about all happenings in the university on a weekly basis, and has been marketing this campaign through its twitter handle. (images below)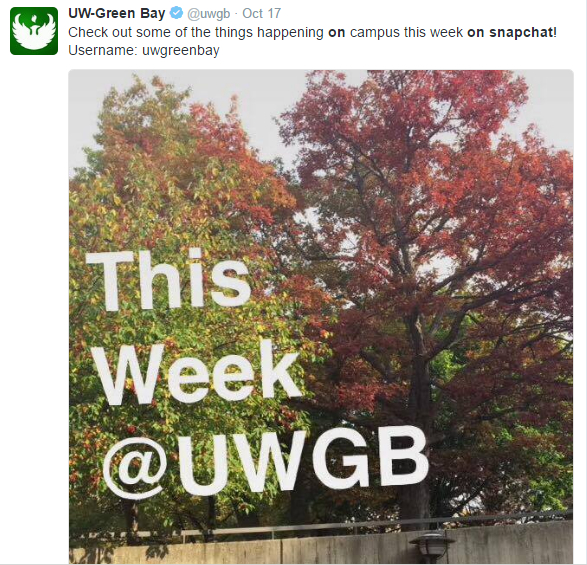 ​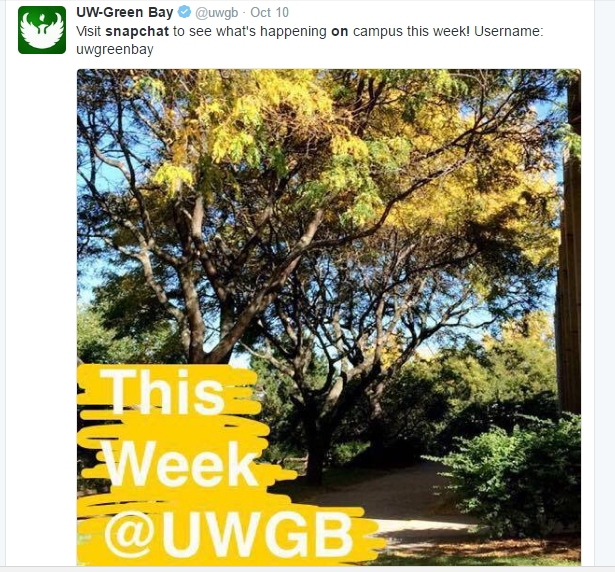 ​
The university, in its official statement, has confirmed that using Snapchat enables them to keep a count of the number of acceptance letter messages seen by students. Unlike Facebook and Twitter, where applicants' timelines are usually public, Snapchat maintains privacy through personal snaps. While filling application forms, applicants were asked to give links to their social media profiles like Facebook, LinkedIn, Twitter, Snapchat, etc. Many universities now-a-days have started asking for such information on their forms. However, it is optional for applicants to fill this information. Those who haven't given their Snapchat details on the form are receiving email dockets anyway.
Applicants around the world, have tweeted about how innovative is the idea of using such a medium for this purpose.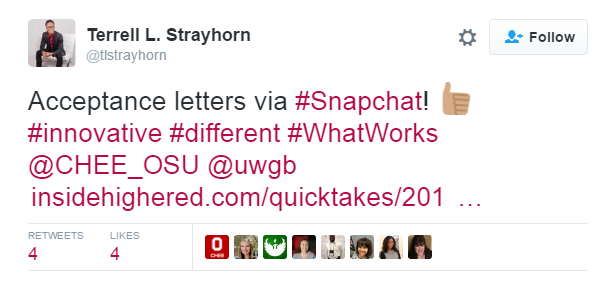 ​
​
Infact, Snapchat Education too has credited UWGB for bringing this cutting edge idea to the state of Wisconsin.