UPSC CAPF AC 2017: Candidates say overall examination moderate, lesser focus on current affairs
 Union Public Service Commission (UPSC) conducted the CAPF (Central Armed Police Force) Assistant Commandant (AC) written test today on July 23, 2017 at test centres across the country. Quite a few candidates who took the exam said that it was of moderate difficulty.
PaGaLGuY got in touch with some of the UPSC CAPF 2017 aspirants and spoke to them in length about the examination and their experience.
An aspirant from Jammu & Kashmir, Vishal Sambyal found the Paper I to be quite tough. "There were quite a lot of jumbled MCQs in Paper I, which took a lot of time for me to solve. Unlike last year, the questions in Paper I were not based on current affairs much and tested your general knowledge," said Sambyal. The son of a retired CRPF (Central Reserve Police Force) jawan, Sambyal moved to J&K in 2016 after completing his engineering degree from Pune. "I wanted to focus on government jobs and hence was trying to get into defence from the last year."
For Porbandar's Prakash Pandavadra, it was a memorable first time experience, coming  to Ahmedabad to take the examination. "I found the MCQ questions to be on the tougher side, but the essay options and descriptive questions were quite easy and managed well," said Pandavadra. Already working as a revenue clerk at the collector's office in Porbandar, Pandavadra wanted to move on to an officer rank, and thus tried his luck with CAPF written examination.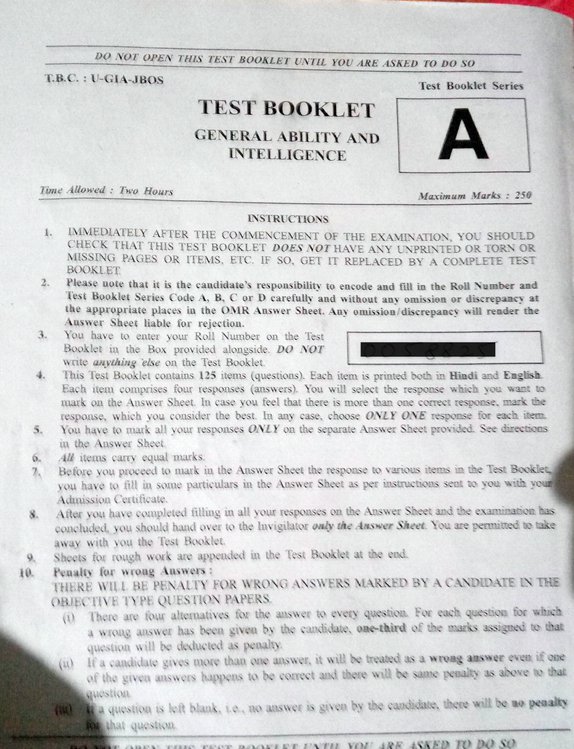 ​
Alok Singh from Merrut has shifted base to Delhi for his preparation for defence services and attempted the CAPF written test for the second time. He found the examination to be comparatively easier than the last year. "Questions related to politics and awards were asked in Paper I which were easier than the last year's current affairs questions. In the descriptive Paper II, essay topics were quite easy, consisting of topics of common civil code, India vs China as emerging economy in India and cleaning of rivers in India," said Singh. The son of a retired Army official, Singh was happy with the services provided at the UPSC main centre in Delhi where he took his examination.
​
However, Sambyal was not quite happy with the facilities at his J&K centre. "There were no fans in our centre and due to the hot weather currently, it became difficult for quite a few candidates during the examination," said Sambyal.
Although most of the candidates we spoke to found the essay portion to be easier, it was not the same for Agra's Manish Kumar. "Apart from the essays, preposition, report writing and other questions looked easy for me and I would rate the overall paper to be moderate," said Manish. Belonging to a family of Navy officials, Manish decided to join defence after he completed his engineering from Aurangabad, Maharashtra. "I travelled from Agra to Delhi for the examination. The facilities inside the examination hall was well maintained."
​
UPSC CAPF examination is divided into two papers, consisting of 450 marks in total. Candidates are tested on their general ability and intelligence and general studies, essay and comprehension skills. Selected candidates will be called for interview round conducted by SSB to fill 179 vacancies in BSF (Border Security Force), CRPF (Central Reserve Personnel Force), CISF (Central Industrial Security Force) and SSB(Shashatra Seema Bal).
​
Click here to download the question paper of UPSC CAPF 2017.