Telangana IT minister responds to protest against JNTU's evaluation system
The online protest started by engineering students in Hyderabad over Jawaharlal Nehru Technological University's 'faulty' evaluation system gained immense momentum on Sunday with over 9,200 supporters. So much so that IT minister K Taraka Rama Rao took cognisance and brought the issue to the notice of Deputy Chief Minister and Education Minister Kadiyam Srihari.
Agitating students united on virtual space as they flooded social media with the hashtag #AgainstJntuHEvaluation. Thousands of engineering students expressed their anger against the university's evaluation system. "It is not one person but thousands of students who are raising the same concern. How is it that almost 75 percent of students would fail in a class at the same time? Either the teaching faculty is not good or the university's evaluation system is faulty," said Sai Krishna, a second year student.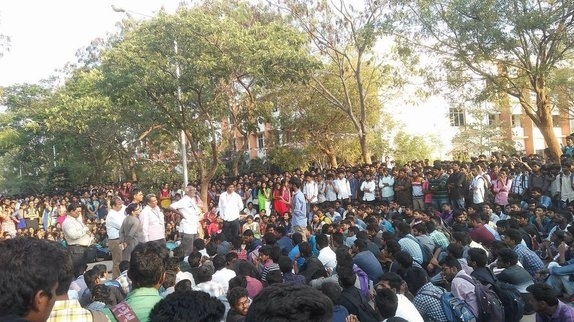 With a list of demands doing the rounds, the students have now planned a massive agitation against the university on February 15. Students plan to block the university gate and stage a full-day dharna. "We study so hard and the university evaluators don't even take enough time to check our papers properly," said Prathamesh G, a student. Students have also planned to boycott classes from February 25-27.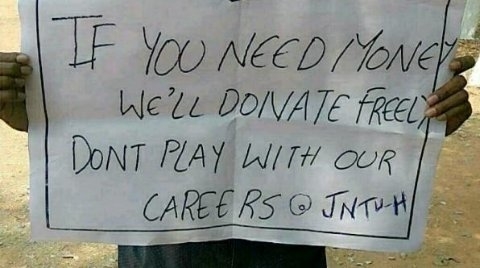 A few students even blamed the university for minting money in the name of supplementary and re-evaluation fee. Posters stating 'If you need money, we'll donate free. Don't play with our careers @ JNTUH' have also been doing the rounds.
Now, protesting students have demanded that the re-evaluation fee must be reduced by almost 50 percent i.e. from Rs 1,000 to Rs 500. Apart from this, students have also demanded that the university provide them with photocopies of their answer sheet to verify if the evaluation has been done properly. Although the university does has this facility, the charge for the same is Rs 10,000.
Meanwhile, the university officials are waiting to hear from the deputy CM and Education Minister Kadiyam Srihari and other higher education department authorities to resolve the issue.