Technical glitches in MICAT'17 Psychometric Section leave some applicants worried
​
MICA (formerly known as Mudra Institute of Communications, Ahmadabad) conducted its exam, MICAT on December 11, 2016. While some applicants were highly satisfied with the paper's difficulty level and the overall exam experience, some faced issues in the submission tab of the Psychometric Section. 
As reported, despite attempting all the questions, the display summary showed a certain number of questions as 'unattempted' for the Psychometric Section.
​
Why is it an issue?
The Psychometric Section is a qualifier. A single unattempted question in this section could lead to a candidate's performance in the other sections being overlooked. Hence, the unrest is genuine.
Applicants took to Facebook and posted their queries on MICA official discussion groups.
Another applicant posted saying that a lot of his time was wasted in the Psychometric Section because of this glitch. The candidates were complaining about the answers not being auto-saved and are fearing that their test might not even get evaluated.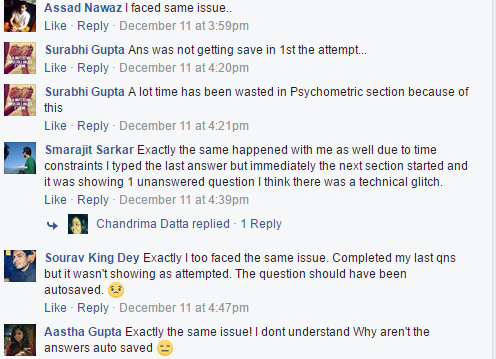 ​
​
Any reaction from the MICA Authorities?
​
The Media and PR wing of MICA responded promptly to the queries on FB and suggested that the aspirants should mail their problems along with their center name, number and the MICAT application number to MICA's admission cell. 

​
Some applicants even called up the MICA office. The officials suggested mailing the problem and other details to [email protected]