Daily Current Affairs for Competitive Examinations: December 12, 2016
Hello readers,
Here are today's important headlines with key details for UPSC, SSC, IBPS and other competitive examinations.
Worlds longest Tunnel GBT inaugurated in Switzerland 
The famed Gotthard Base Tunnel (GBT) has started regular commercial rail service in Switzerland. It is the first regular train to use GBT ferried passenger from Zurich to Lugano. The twin-bore GBT is the world's longest and deepest railway tunnel with a length of 57-kilometer.
Key facts:

It is the first flat low-level route through the Alps Mountain and is a part of Swiss government's New Railway Link through the Alps (NRLA) programme.

It has not only outdone the 50.5 kilometre long Channel Tunnel connecting Britain and France but has also beaten Japan's 53.9 kilometre long Seikan tunnel. 

It took 17 years to reach completion and its total cost amounts to around US $11.8 billion.

It comprises two single-track tunnels that connect the municipalities of Erstfeld and Bodio in Switzerland. 

In comparison to earlier 180, now 260 freight trains would be able to pass through the Gotthard mountain range each day. 

The ambitious project is Swiss-funded and was made possible through advanced tunnel-boring machines.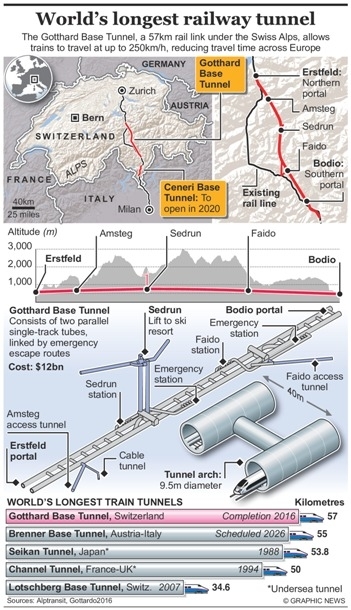 The main purpose behind the construction of the tunnel was to do away with the cultural and trading barrier that the Alps posed as in Europe since centuries. Though the opening of the Gotthard road tunnel in 1980 made it possible for goods to be transported by road, fatal accidents and adverse environmental effects led the authorities to come up with the plan of building two base tunnels under the NRLA programme.
While GBT is the second tunnel to be built under the programme, the first was the 34.6 kilometres long Lotschberg base tunnel, which was opened for commercial services in December 2007.
​
Non-OPEC countries agree to cut oil production by 558000 barrels per day
For the first time since 2001, non-OPEC countries on December 10, 2016, agreed to join the supply cuts in order to overcome the major obstacle for a global agreement to curb output. The decision was taken during a meeting of the Organization of Petroleum Exporting Countries (OPEC) in Vienna.

These eleven oil-producing countries, who are not members of the OPEC oil cartel, include Azerbaijan, Oman, Mexico, Sudan, South Sudan, Bahrain, Malaysia, Equatorial Guinea, Bolivia, Kazakhstan and Russia.
Breakdown proposed by non-OPEC countries
Russia to cut 300000 barrels a day

Mexico to cut 100000 barrels a day

Kazakhstan to cut 50000 barrels a day

Oman to cut 45000 barrels a day

Azerbaijan to cut 35000 barrels a day

Malaysia to cut 35000 barrels a day

Bahrain to cut 12000 barrels a day

Equatorial Guinea to cut 12000 barrels a day

South Sudan to cut 8000 barrels a day

Brunei to cut 7000 barrels a day

Bolivia to cut 4000 barrels a day

Sudan to cut 4000 barrels a day
Civil nuclear cooperation agreement signed between India and Vietnam
To enhance the bilateral ties between the two nations, India and Vietnam on December 9, 2016, signed a civil nuclear cooperation agreement.  This is the second nuclear pact signed by India within a month. Earlier in November 2016, India signed a similar civil nuclear agreement with Japan.

Vietnam is the 14th country with which India signed the civil nuclear deal.

Apart from this civil nuclear agreement, the two nations also signed three other agreements to enhance aviation links, to jointly work in the area of energy efficiency and promotion of parliamentary cooperation.
Here is a list of last few articles on Current Affairs and the Monthly Bullet on Current Affairs for SSC, Banking, UPSC and other competitive exams
Monthly Bullet Pdf for December 2016
Current Affairs Bullet for December 8, 9, 10
Current Affairs Bullet for December 7
Current Affairs Bullet for December 6
Current Affairs Bullet for December 5
Current Affairs Bullet for December 3
Current Affairs Bullet for December 1, 2
Current Affairs Bullet for November 29
​
​
​