RRB NTPC 2016; Results processing still in progress
RRB exam authorities have released a notification today, March 3, informing candidates that the 2016 exam results processing is still in progress. The RRB NTPC exam was held in December 2016 and candidates have been waiting for the results since January this year. The results that have been delayed for about 2 months, is still being processed according to the notification, with no specific time frame about when they will be released. Further, the notification has simply asked candidates to check the SSC official website for upcoming results.
Desperate candidates have used various social media forums to vent their frustration. PaGaLGuY users too have expressed their disappointment with the RRB exam authorities on a discussion thread. See images below;


​
Candidates who appear for multiple public exams are worried that results of different exams will clash, causing overlapping interviews. On twitter, candidates have been constantly tweeting to the Railway Minister of India, Suresh Prabhu through the #DeclareRRBNTPCResults and #announcependingresults. See image below.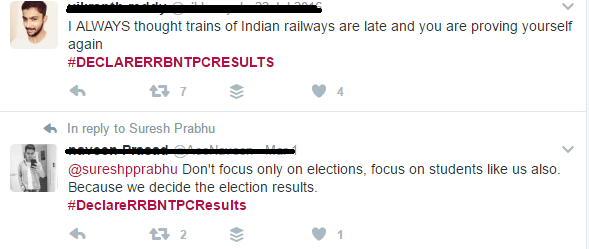 Amidst so many appeals, the RRB authorities released this notification, requesting candidates to be patient about their results.