NEET PG in Chennai postponed today, medicos worried about tomorrow
After the sad demise of Tamil Nadu Chief Minister Jayalalithaa Jayaraman yesterday, the National Eligibility cum Entrance Test PG (NEET-PG) exam was postponed today by the National Board of Examination (NBE). Medicos are now clueless about what will happen about tomorrow's examination. Transportation has been hit worst in the state after the death of Jayalalitha, making medicos worried about their traveling arrangements.
The Executive Director of NBE, Dr. Bipin Batra tweeted today morning stating, NEET PG shall be conducted as per schedule on December 7 at all centres across the country.
Talking to PaGaLGuY, Nischal Gummadi who was supposed to take NEET PG today, said he received a text message from NBE at 8:46 am stating the examination has been canceled today. "I am from Andhra Pradesh and my centre for NEET PG was in Chennai. I came to know about the cancelation of the examination at 8:46 am in the morning and I was scheduled to take it at 10 am," said Nischal. He further stated that he expected something like this will happen after he heard about Jayalalitha's demise. Thus, he canceled his journey to Chennai even before getting the message from NBE.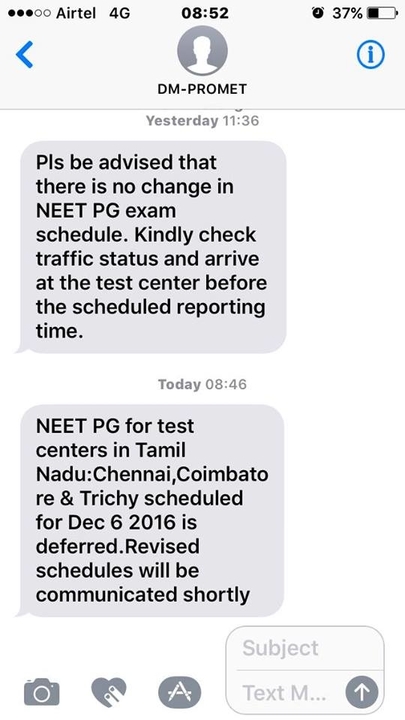 ​
Although it worked for Nischal, the same is not applicable to Mukesh Kumar Ganesh, who has to travel 200 kms to reach his centre tomorrow. "There is presently no transportation facility at my native town and I am not getting a single bus to reach Coimbatore. Even if I get a bus tomorrow morning, it will be tough for me to make it in time for my examination which is beginning from 10 am," sighed Mukesh.
​
Not only Mukesh, but other medicos also registered their displeasure about the NBE decision to carry on with the examination tomorrow. They took to twitter and requested the NBE to postpone the examination.




"We are finding it difficult to even print out our NEET PG admit cards, as most of the shops and café's are closed. Four of my friends along with me are taking the examination tomorrow, but we don't have any clue as to how we will manage tomorrow," lamented Mukesh.
​
​