The National Board of Education (NBE), on October 20, 2016 announced that NEET (National Eligibility cum Entrance Test) PG 2017 examination can be given by aspiring PG students of NTRUHS (NTR University of Health Sciences) who will complete their internship on or before April 15, 2017. Previously, the examination notification published by NBE clearly mentioned that those candidates completing their mandatory 1-year internship after March 31, 2017  will not be allowed for NEET PG 2017.
The decision to allow NTRUHS students extension in the deadline came as a result of the letter addressed to NBE by the concerned parent's community. The letter stated that the present batch of interns will miss this year's NEET PG examination as their internship will be completed only by April 12, 2017. The letter stated, "Results of the final MBBS exam were declared on April 8, instead of second week of March as they usually be declared every year. Every year, internship used to start by March 27th but this year it started on April 12 due to the late declaration of final year MBBS results."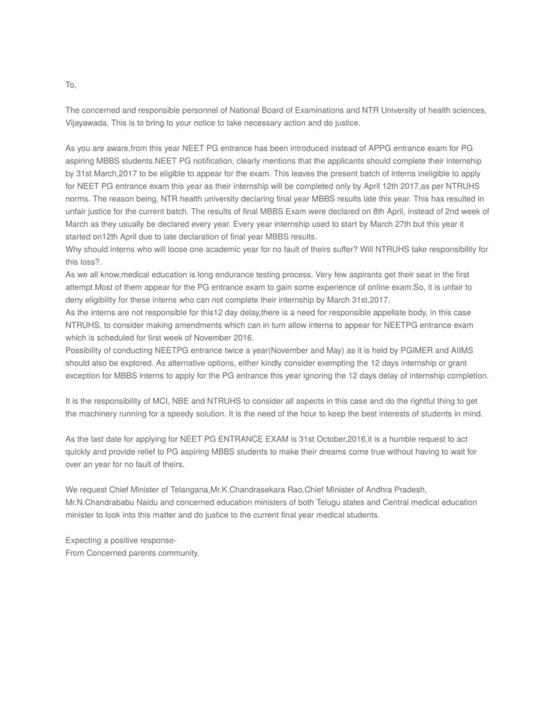 Responding quickly to the demands made by the concerned parents through the letter, the NBE Executive Director Dr. Bipin Batra tweeted about the decision to allow NTRUHS interns to submit applications for NEET PG 2017.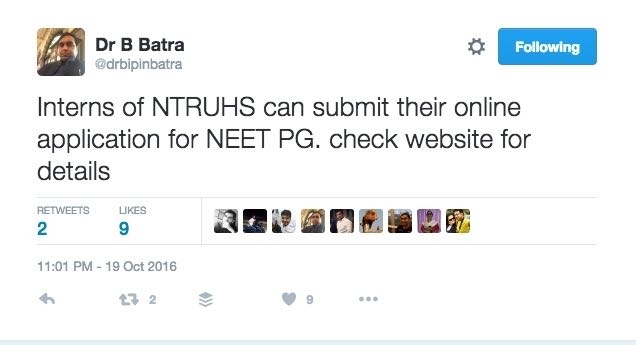 With the last date for online registration of NEET PG 2017 approaching (October 31), the quick response from the NBE will ensure that aspiring PG candidates from NTRUHS don't waste a year.