NEET 2017: Regional politics strikes before application process commences
(Left to Right: Karnataka CM Siddaramaiah, Odisha CM Naveen Patnaik and Kerala leader of opposition (Cong) Ramesh Chennithala)
The National Eligibility cum Entrance Test (NEET) 2017 is making headlines ahead of the beginning of the registration procedure. Union Health Minister JP Nadda announced the eight languages that the NEET 2017 exam will be conducted in – Hindi, English, Tamil, Telugu, Assamese, Bengali, Gujarati and Marathi. Not only has this announcement created a stir among states which had their regional language left out, but the Chief Ministers of Odisha and Karnataka have already written to the central government seeking permission for aspirants from the state to appear for NEET in their respective regional languages.
Regional politicians are beyond eager to ensure their state languages are included in the linguistic list for NEET 2017. However, students are less than prepared to attempt the examination in their mother tongue given the lack of proper study material in various languages.
​
Where lies the problem: Language or Syllabus?
Anjali Saraf, a NEET applicant pointed out the pointlessness of preparing for a national level examination in regional languages. She says, "Aspirants preparing for medical exams in general keep in mind the syllabus of an All India level examination. Whether it is a student of a State Board or a Central Board of Secondary Education (CBSE), they prepare themselves for exams as per the syllabus." 
​

The NEET exam is based on the CBSE syllabus which put students studying in state boards in a tight spot. Until now, the Consortium of Medical, Engineering and Dental Colleges of Karnataka (COMEDK) examination conducted in Karnataka helped filling up most of the seats. Interestingly, the COMEDK examination has been conducted in English language only. However, Director of Directorate of Medical Education, Karnataka, Dr S, Sachidananda says, "The switch to CBSE syllabus in most schools has been has been taking place over the last few years. I don't think it would be an issue for the students to keep up with the NEET examination." Though when students belonging to rural India are considered, he says, "Allowing Kannada as one of the languages will certainly help a lot of medical aspirants from the rural belt of the state, who prefer studying in regional language. But, I am not sure about the educational content that is available for them in the regional languages"
The situation differs from state to state. Anisha Malviya, an aspirant from Chennai, Tamil Nadu, says, "The disparity in the state and CBSE syllabus is the main concern for me. Although, there was an escalating demand of uniform syllabus from the students since last year, the question is whether it has been achieved yet." Students in Tamil Nadu were granted admission to medical colleges based on their class 12 marks until now. There were no entrance tests.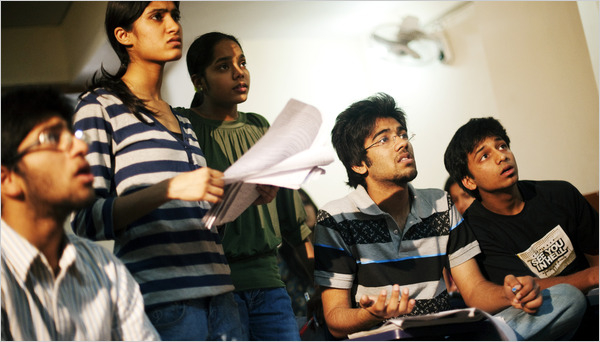 Would NEET in regional languages help?
The ultimate truth is that despite appearing for medical entrance tests in regional languages, students will yet have to study their MBBS in English. At the plus two level, those who are coming out of the Odia medium schools in Odisha, prefer to take English as their medium for education. Appropriate coinage of the medical terms and describing the study material in regional language becomes a challenge for these students, due to lack of availability of substantial study material in that particular language. "My friends from different states belong to different boards, but they prefer English as their medium of examination and are preparing accordingly," said Anjali, a student from a coaching institute in Kota.
Political mud-slinging with letters from different state governments and opposition has already started. The pressure has built up for the central government to make a move with respect to inclusion of additional regional languages for NEET 2017. Demands from other states might also get registered in the coming weeks to include more state languages as options. Coaching institutes are cashing in on this opportunity. Students from state boards are enrolling for crash courses before the examination. Though taking the test in a regional language will not be of much help in the long run, the feasibility of making inclusions needs to be checked by the government before making any further announcements.
(With Special inputs from Sneha Shetty)
​
Click here and join our discussion forum to keep yourself updated about what is new in the field of medical education.