NEET 2017: Medical aspirants protesting against capping of NEET attempts across the country
Ever since the official notification of National Eligibility cum Entrance Test (NEET) Undergraduate 2017 came out, aspirants have been fuming over the sudden implementation of capping NEET attempts to three. The notification has not only mentioned an upper age limit of 25, it also barred candidates who have taken the AIPMT/NEET thrice, from applying this year. Aspirants have already shared their angst on social media, but now, they are taking it to the streets.
Protests were held in different parts of the country yesterday with demands of scrapping the new rules of capping the test attempts. Students gathered in front of the CBSE office in Allahabad and protested in the streets of Lucknow yesterday. Protests also took place in different parts of Kanpur, Bhubaneshwar and Patna, with the single agenda of cancelling the new norm.
Talking to PaGaLGuY, Nitesh Singh from Lucknow informed that they have submitted their demands to the incumbent Governor of Uttar Pradesh, Ram Naik, today. "With the election code of conduct ongoing in UP, it was difficult for us to gather together and walk to the Governor's residence. But aspirants walked in groups to the governor and submitted their demands of removing the draconian rule imposed in NEET by the concerned body," said Singh, whose nephew is a repeater this year.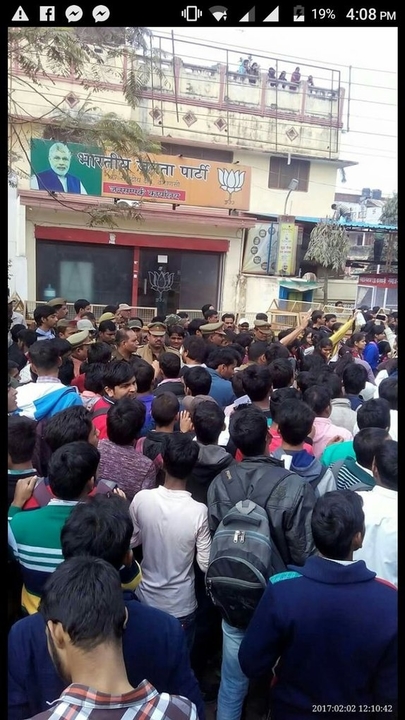 Besides Lucknow, there was an ongoing protest by medical aspirants in Patna and Varanasi today. Vivek Pandey, who is part of the Varanasi protest, informed that hundreds of aspirants joined the protest today. "Students protested in front of the BJP office in Varanasi with their demands. Thousands of aspirants will be affected by the decision of capping NEET, wasting a year for them. I wouldn't be able to take the exam this year, even though I prepared by enrolling myself in a coaching centre for a year in Indore. This is injustice to us," said Pandey.
"Although there is nothing wrong in capping attempts of an entrance examination, the timing is wrong. Those who have already invested a year preparing, will have nowhere to go now. Capping of attempts happened in Civil Services exam in our country as well, but government had to revoke it due to pressure from different sections of the society," said Singh. Civil services candidates were allowed six attempts from 2014, after widespread protests that were held across the country challenging the 2013 order of DoPT (Department of Personnel and Training), capping the attempts to four.
IIT JEE Mains examination, which is the entrance examination for selecting candidates in engineering courses at IITs, is also limited to three consecutive attempts for aspirants. Before IIT JEE Mains 2016, it was limited to two.
"Along with the governor, we have informed the District Magistrate about the problems aspirants will face if the order persists. The morale of aspirants is quite down and denial of an attempt to pursue their dreams will destroy their hopes," concluded Singh.
​
(Image Credit: Vivek Pandey