Medical aspirant loses seat due to government policies and court orders
Anjali Saaraf, a medical aspirant from Gorakhpur, Uttar Pradesh was confident of getting a medical seat this year when she scored 477 in NEET (National Eligibility cum Entrance Test) 2016. Anjali wanted to become a doctor since she was in the 9th standard. She joined coaching classes for medical preparation in Kota after completing her board examination. 
 She took the first phase of NEET held on May 1, 2016 and was waiting for the counselling to begin after she came to know about her results on August 16. She couldn't secure a seat in the two rounds of counselling for the 15% All India Quota (AIQ) seats, due to high cut off marks. The AIQ seats were meant for government medical colleges for MBBS/BDS courses across the country. 
 Anjali, along with her father, Vinod Saaraf, who has a textile business in Gorakhpur, started deliberating about their choices of private colleges in UP. The 14 private MBBS colleges in the state offer 1,550 seats and Anjali was confident that she will end up getting one of them easily with her UP state rank of 2,100 (NEET All India ranking of 12,195 according to the result released by Medical Counselling Committee). 
 Anjali was fortunate enough to get a seat at the at Hind Institute of Medical Sciences, Barabanki, on September 6, 2016, under the subsidised seats promised by the UP government at annual fees of Rs. 36,000/-, for 50% medical seats in private medical colleges in the state. Following suite, many UP medical aspirants took part in the combined counselling for these seats as well and secured their medical seats in different colleges. "Although I was allotted a seat at St. John's Medical College, Bangalore, based on my rank in NEET, we decided to stick with the subsidised seat that we had got at the Hind Institute of Medical Sciences," said Anjali.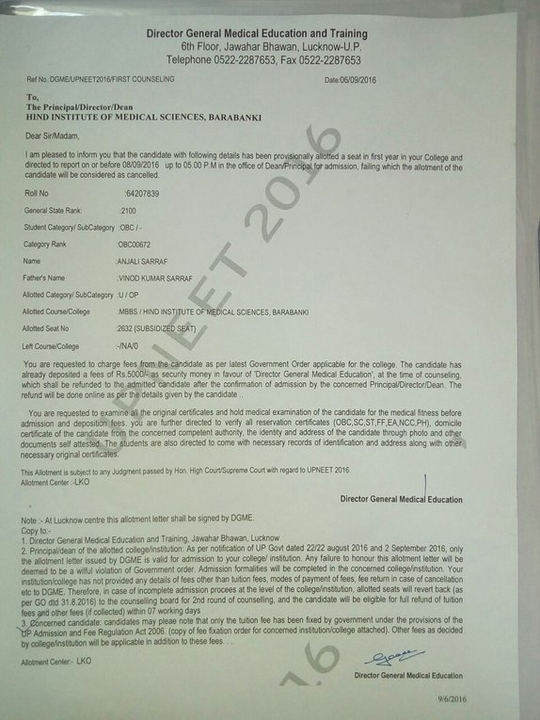 However, Anjali and her father were in for a shock when they reported at the college on September 17, as the UP High Court had, by then, ordered the cancelation of subsidized seats. The court had ordered the state government to conduct fresh counselling. The medical seat that Anjali was given, was taken back from her, and fresh counselling was conducted by the Directorate General of Medical Education and Training (DGME), Uttar Pradesh. 
After the court order, the fees of the MBBS course of quite a few private colleges in the state shot up to 11.30 lakh per annum. "It was impossible for me to allow my daughter to take admission in any of the private medical college in UP for such a high fee. Thus we started looking for options in other states," said Vinod Saaraf. 
 Losing hope about getting a seat in their own state, father and daughter went to Madhya Pradesh during the counselling of private medical colleges in MP. "We decided to block a seat in one of the private medical colleges in Madhya Pradesh as the fees in theses colleges were limited to 7 lakhs per annum. But then, all of a sudden, we came to know about the Supreme Court ruling on October 5, stating that domicile candidates will be allowed to fill up the seats first and only the seats that remain will be offered to outstation candidates," said Vinod. 
 With last date to complete the medical admissions (October 7) set by Supreme Court fast approaching, Anjali had very little time to make a decision about her medical college. This is when she come across another tough choice. On October 7, when Anjali and Vinod were in MP for the spot counselling process, mop-up counselling was being conducted for the vacant seats in Bihar as well. Anjali got a call from one of her friends at 5pm, who was present at the counselling, and informed her that the cut-offs will allow her to get admission in PMC (Patna Medical College), provided she reach there by 7 pm. "From Indore, it takes 22 hours by road to reach Patna, where the counselling was taking place for the PMC. There was no way we could have made it. So we finally zeroed on Index Medical College, Madhya Pradesh and the admission was confirmed on October 7," informed Anjali.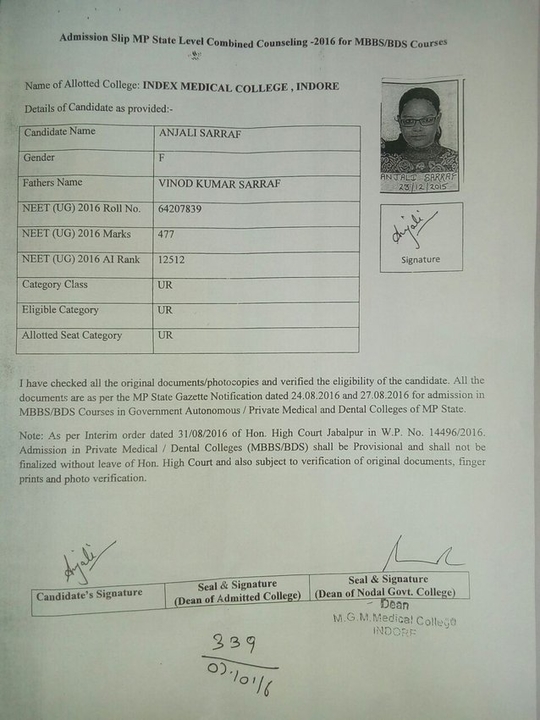 Anjali's father never compromised with the studies of his two daughters and strongly believes in fulfilling his daughters' aspirations. However, educating them, and putting them in a medical college was altogether a different test for him. After arranging and paying the annual fees of Index Medical College for MBBS (Rs. 6.25 lakh) to confirm Anjali's admission, he got a call from the college authorities a few days later. "The college authorities informed me over phone that they want a bank guarantee that if the concerned authority (Admission & Fee Regulatory Committee) allowed the college to increase the annual fees, we would have to pay the fees. I became afraid about what amount could they possibly ask for now," pointed out Vinod.
 According to the Admission & Fee Regulatory Committee (AFRC), Madhya Pradesh, the fees for Index was Rs. 4 lakhs in the academic year 2015-16. For the academic year 2016-17 Rs. 6.25 lakh per annum has been decided as MBBS fees by the college. However, they have clearly mentioned about the possibility of revision of the fees depending on the directions of the competent authority on their website. 
 To top it all, Index Medical College admitted three additional students over and above its intake of 150 for an academic year, and were ultimately ordered by the Medical Council of India (MCI) to get rid of three students. "The college called up students who had got admission and asked individually about whether they want to keep their seats. We were afraid about the possible rise in the fees mid-way of the course by the college and thus decided to finally cancel the seat. We were asked by the college to sign an affidavit to quit our seat," sighed Anjali. 
"I spent about Rs. 25,000/-, running from Gorakhpur to Lucknow to Indore during the entire counselling process. We had to take accommodations in a hotel in Indore for the whole duration, which cost us a lot of money. It was hard on my business as well, but all of this was in vain," lamented Vinod.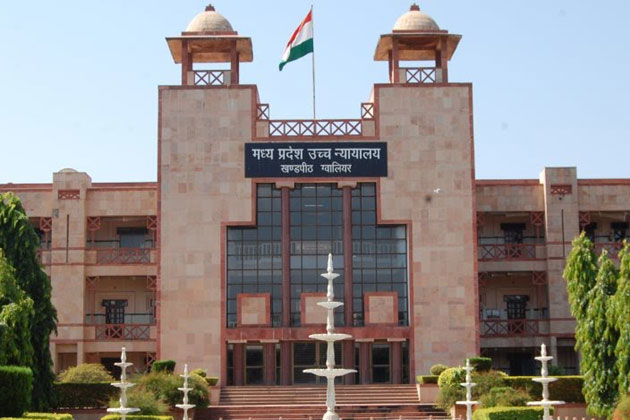 Although the Madhya Pradesh High Court on November 8 struck down the DME (Directorate of Medical Education) order of cancelling admission of 37 students in the state, there seems to be no hope of Anjali getting her seat back. "Even if the High Court orders the students to be admitted again in the colleges, we will not be able to claim the seat as we had sign the affidavit," said Vinod.  
 Losing hope of getting any medical seat this academic year, Anjali decided to go back to Kota, where she started coaching in 2015, to prepare for NEET 2017. "It's been six months since I have been out of my studies, due to the NEET conundrum that took place this year. You need focus on your studies to be in the flow for cracking an entrance exam. It is sad that even though I secured more marks in NEET 2016 than some of my friends, I couldn't end up getting a seat this year, while they have started their medical courses," said disheartened Anjali. 
The MBBS/BDS academic session that usually begins at the month of July- August every year, has been shifted to mid- October this year. "There is no point of taking back the students by the colleges as a lot of time for the academic session has already been lost in the process of court battles and government resolutions. It is better that my daughter prepares for the NEET 2017 and starts afresh," concluded Vinod.