LocusFocus- Windy Chicago 
​
If you are walking down the clean streets gaping at the tall buildings and the perfect skyline, experiencing all the four seasons in a single day and feeling a little lost in the fast-paced environment around you,then just breathe and prepare yourself for one of the best cities of the United States- Chicago!
​
Chicago is as dense as it is expansive, and you will definitely sell yourself short, by not exploring all what it has to offer.
​
So, Let us enlighten you about the tidbits of the 'Chi-Town',demystify the traditional views one holds for this 'City of Big Shoulders' and make you somewhat at-par with an average Chicagoan!
​
About the city …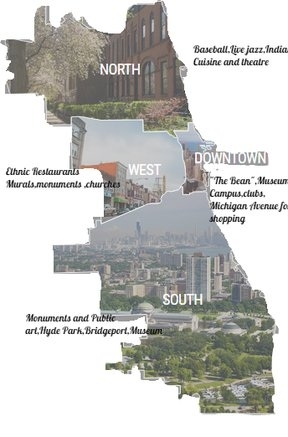 Don't worry ! This section will not seem like another Wikipedia soupcon .Knowing the basic history and know-hows revolving around a place will help you to get the essence faster. So, yea! Chicago Pointers for you :
Chicago wasn't always the desired American city as it is today. Chicago area was nothing but a swampland which made it impossible for any city to thrive. The land was elevated to make the ironic conversion of a swamp to a city, which built the first skyscraper in 1885.

Talking about the city's demographics,Chicago is home to an estimated 2.7 million residents essentially comprising of the Irish.Also,Greek, Polish, Hispanic, Chinese, Irish, Italian, Lithuanian and African are just a smattering of cultures that can be found in America's third-largest city.

You are defined by your neighbourhood in Chicago.And staying loyal to your area is a rule here. Let us give you a basic outline for this.(figure)

Directions: Remember Chicago is built on a Grid System.The center of the grid system is in the heart of the loop at the intersection of two streets- The State Street and the Madison Street. Also, going towards the Lake means you're traveling East.
Transportation:You won't find any subway system here.Instead,The CTA (Chicago Transit Authority) offers a convenient system of buses and elevated trains known as the "L." Trains are $2.25 per ride and buses are $2.00.A Ventra card is used for the same (Similar to the metro card here).You can also opt for bike, cab or shared taxi.
Weather:Complaining about the weather is the way Chicagoans bond! The city experiences great summers and has amazing beaches.But what might bother the newbies is the frigid winter Chicago faces.The temperature drops down to abnormal sub zeroes.Remember to carry appropriate clothing (a few extra layers won't hurt! ),umbrellas with wind vents and waterproof boots.
Food is one of the few factors Chicagoans are irrationally passionate about.The three signature staples are the hot beef sandwiches (at Al's Beef), the deep-dish pizza (at Pequod's) and the Chicago-style hot dogs(at Hot Doug's).Just FYI-Asking for ketchup on your hot dog is a sin here.so don;t even try !
Tourist Attractions: For the first few weeks,when you will actually act like a tourist,remember to include these spots in your'Places to visit' list-Grant Park,Cloud Gate, the Willis Tower (second-tallest building in the U.S.!),the Navy Pier-which has a 50-acre playground, 150-foot Ferris wheel,Millennium Park,Lincoln Park zoo ,lyric opera .You might get lucky if you happen to witness the St.Patrick's day anytime soon.
Word of advice :Submerse in the culture,explore the diversity and figure out your favorite authentic Chicago spots in no time
​
About the University…
University of Illinois at Chicago is a Tier I research institution, which truly focuses on cutting-edge research and has a terrific academic reputation.
Location: UIC has the entire Chicago city as its backyard.It is stone's throw away from Chicago downtown making the city easily accessible.You can bike there,drive there, or just take the train.The CTA Ventra U-PASS provides unlimited use of CTA trains and buses during the school year.
UIC is affordable—more so than other institutions. It is not the cheapest, but it will not break you financially. UIC is a good choice if you want pursue anything higher than a 2 year degree.Manage your money and you should do fine.
It boasts a diverse student body.You are most likely to find a generous mix of Latino, African-American, white, foreign-born Asian, and Muslim students.  It's like the United Nations on the campus and most students have said that they feel welcomed on the campus. 
Academic programs at UIC are pretty rigorous.For graduate students,UIC offers most of its course at night between the hours of 4 pm and 8 pm. This is perfect for the working teacher or administrator. UIC also offers two types of summer-term schedules: a four-week and an eight-week section for some courses.
Accommodation: UIC offers in-campus,off-campus and special interest housing facilities.
Dining: UIC has meal plans for students to purchase and use at the cafeterias across the campus. UIC has All-You-Care-To-Eat anytime dining at designated locations. Fast-food eateries like Dunkin Donuts,Wendy's,Subway,Sbarros and a Mexican restaurant is in the student center of the campus.
Considering your overseas education at the University of Illinois-Chicago,will not only provide academic excellence but will also instill a great deal of cultural richness which will definitely make your learning experience,an experience of a lifetime.
So,get in touch with the university's representatives at the International EduFair (November 19 -November 21) and make your dream of studying abroad come true.