Kota takes steps to address student stress levels
The recent string of suicides among engineering aspirants sent alarm bells ringing all over India's coaching capital. Experts and social organisations are hoping that meditation, music concerts, movies and counselling will help students cope with the high pressure of preparing for the Joint Entrance Exams (JEE), which opens the doors to India's premier engineering institutes, the IITs (Indian Institute of Technology).
Many have come forward to help students deal with the stress. The 'Art of Living', which is headed by spiritual guru Shri Shri Ravi Shankar sent a team of 20 professionals from 'Art of Living' including graduates of IITs, AIIMS, Delhi University, Government Sawai Man Singh College of Jaipur and other famous educational institutions. They have been in Kota for the last three weeks to counsel and de-stress engineering aspirants.
Vivek Aggarwal, State Coordinator of Art of Living, Rajasthan informed that they have launched the 'Spreading Smiles' campaign for the coaching aspirants to help them live and study in a de-stressed manner. "A team has gone to around 60 hostels in Rajeev Gandhi Nagar area of Kota City where they have interacted with coaching students preparing for IIT-JEE and Medical entrance examinations," he said. "Aspirants were not only counselled but were also invited to attend the 'Happiness Program', a meditation programme in which they were taught Sudharshan Kriya. Around 400 aspirants attended the 5-day long Happiness Program, which was held from July 5th to 9th."
On the conclusion of the meditation program, a music concert by 'Rhythm Divine' of Art of Living was held at the Allen Career Institute which drew students from different hostels. The band played famous pop songs, Hindi film songs, devotional and patriotic songs which had the students singing and dancing as well.
One aspirant Shreyal Gupta, who attended Art of Living programme and music concert, said that the study schedule during coaching becomes monotonous, so meditation followed by a music concert was a welcome change. Another aspirant, Rakesh Sharma said that he too enjoyed the music concert since music reduces stress and that students were fond of music. The Art of Living authorities added that they will continue to organize music concerts and meditation sessions for students in the coming days.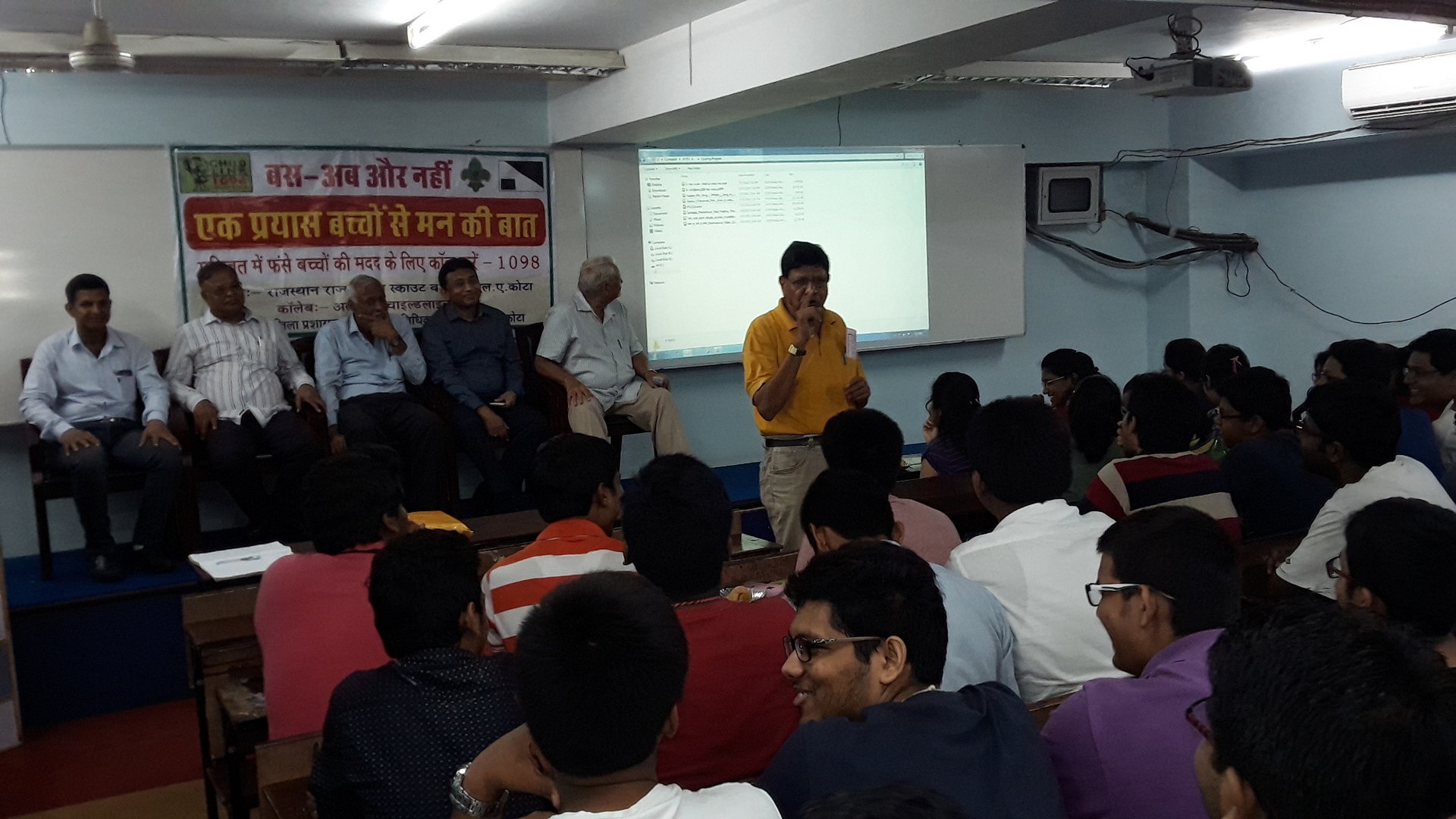 Meanwhile, 'Childline', a project sponsored by the Government of India along with the support of Kota district administration and District Legal Service Authority are jointly running a campaign called 'Bas – Ab Aur Nahi' to motivate students and counsel them. One such motivational programme was held at Ables Coaching Institute, Kota recently. Dr. LK Dadhich, environmentalist asked students to believe in themselves and not consider anything more important than life. Vimal Chand Jain, former Member of the Child Welfare Committee of Kota asked students to call on the student helpline service 'Hope' in times of stress. Students were also asked to share their inner feelings with their parents and friends. Short motivation films were also shown to the students.