Kota coaching students hit by demonetization
The coaching capital of the country has not remained unaffected from the demonetization drive of the Modi government as coaching students in the city have to miss their classes and stand in long queues to change their demonetized notes and get cash from banks/ATMs.
Students who are usually seen more in their classes and less outside banks or ATMs were seen making a beeline for ATMs/Banks these days. With most coaching students coming from different places around the country, their parents send money into their bank accounts which students fetch from ATMs or banks. However, demonetization has created a currency crunch for them as they cannot withdraw their own money from their own bank account easily.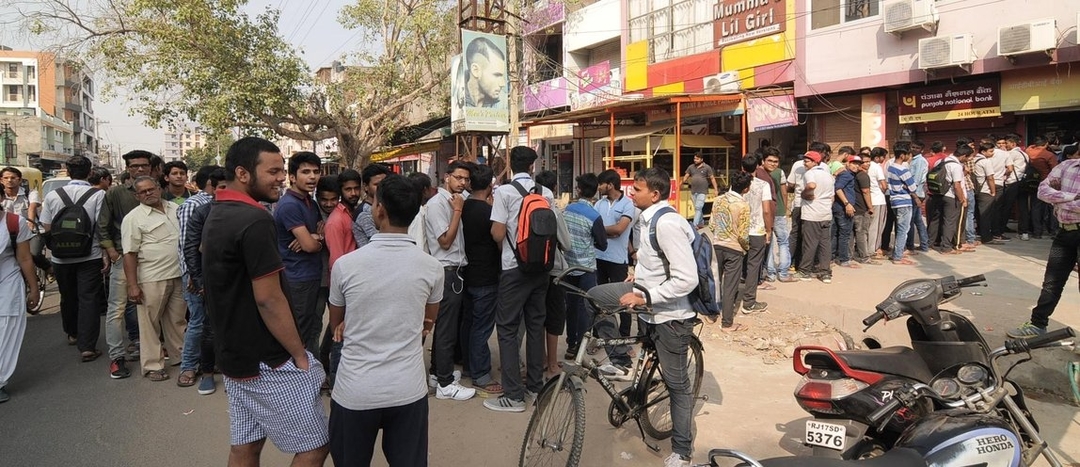 One coaching student Manish Bisht (18) from Uttarakhand, who is preparing for IIT-JEE from a coaching institute of Kota, said, "The money I have is mostly in Rs 500 / Rs 1000 notes, which are not being accepted in the markets. Many students have had to miss their classes to queue up up in front of banks and ATMs to withdraw money from their account which is a herculean task this days, as quite often, the cash in the ATMs get exhausted, leaving students who had queued up in these lines in despair."
Another student Sumit Rawat (17) from Gangotri, who is preparing for IIT-JEE in Kota, said that he is facing difficulties in his daily life, with regards to purchasing stationary, mobile recharge, and hostel and mess fees, as they are not able to withdraw bulk money from their bank accounts and ATMs. "I stood for around one-and-a-half to 2 hours in a queue at an ATM queue, but even then, I could only withdraw a small amount which is insufficient for me as I was planning on buying winter apparel and manage other expenses," he said. He also revealed that many ATMs which were not functioning initially have now have started functioning, However, the machines are out of cash very fast. "Since most of us have recently returned to Kota after celebrating Diwali vacation back home, most of us have demonetized money with us which currently useless," he said.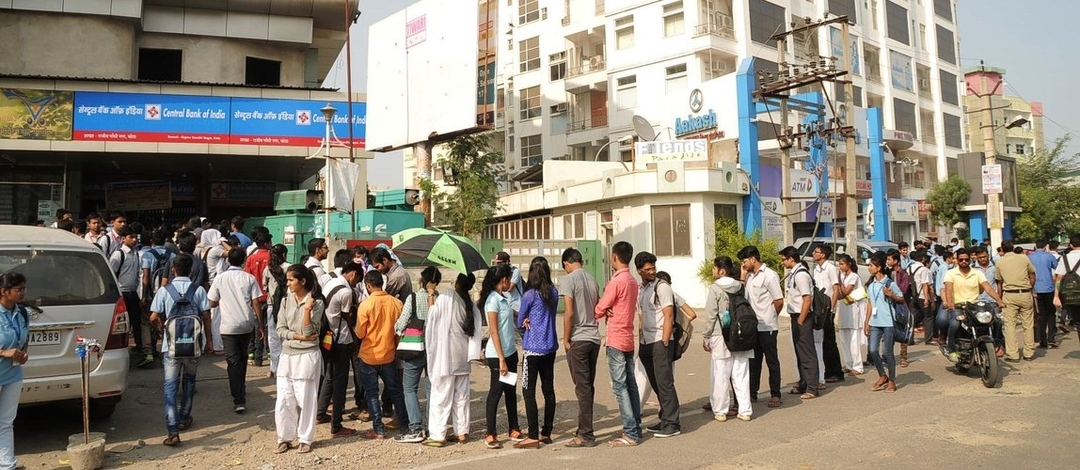 Mohammad Fareed (17) from Uttaranchal who is preparing for IIT-JEE in Kota, said that examination forms of several examinations have been released for which students are in dire need of money but demonetization has tied their hands and they are facing difficulty in arranging money for buying these examination forms and depositing the fees.
One coaching student, Hrithika Sharma (17) from Uttar Pradesh stated that she has to bunk her class and stand in ATM queue for money. However, due to the long queue she couldn't get the money as the ATM was out of notes by the time it was her turn. "Since ATMs are also giving only Rs 2000, it will create problems if this continues for long," she said. She asserted that she had to give her hostel and mess fees, but now has asked the hostel and mess authorities to defer receipt of these fees until next month.
The coaching city has around 1.50 lakh students from all over the country, who arrive here for coaching for the medical and engineering entrance examinations.