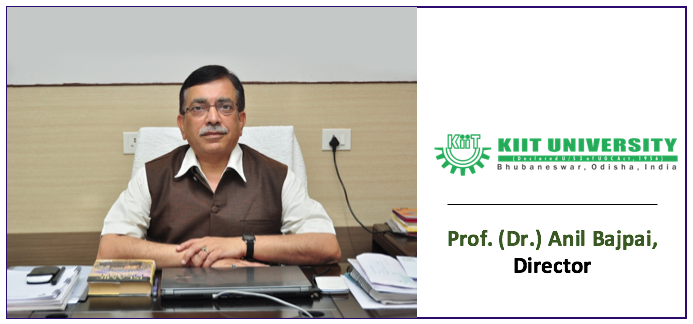 You earned all your degrees
from India's most premier institutions. How do you connect them with KIIT SOM?  
I bring to the table – Experience, Culture and
the Ethos of three of India's best schools of higher learning St. Stephen's
College Delhi, Indian Institute of Science, Bangalore and IIM Ahmedabad. What
this does to me with respect to KSOM, and trying to inculcate both in faculty
and students some of the best practices that I have experienced and imbibed.
For example, one of the cultural aspects of the Institution is happiness index,
cheerful face, a sense of pride and ownership, are values close to my heart. I
have made efforts and largely succeeded in cultivating the value to some
extent. I am extremely proud of KSOM faculty and students who present a very
confident culture, knowledgeable and cheerful face to the industry.
98% of students have been
placed in reputed organizations. What are we doing right at KIIT SOM?
I really would not be able to point my finger on
any one particular aspect. It is a combination of events and activities that
result in such a happy outcome.
1)
In order to illustrate we have an organized
Corporate Relations team headed by a very Senior Executive. The offices are
based in PAN India and interact with the corporate across the country very very
intensively. The spirit leads to the outcome in terms of placement.
2)
We conduct 5 events of national importance
·
NHRDN
·
HR Conclave
·
Finance Conclave
·
Marketing Conclave
·
NMC
The format of
the events necessitates invitee's includes extremely Senior Corporate
Executives/ Owner Managers to address our students and faculties such
relationships go a long way in desired outcomes.
3)
We have an industry education interface
organized which deals at a much more technical level and invites industry to
exchange views and provide inputs to enable industry ready course curriculum.
All the above along with the facts that our Advisory Board
and our Board of Studies comprise of some extremely senior professionals from
corporate world and academia makes way for creating an environment wherein
students get opportunity to develop and be ready to rub shoulder with the best.
It is therefore, not surprising that 98% of my students get
placed in organization of higher repute.
From your rewarding corporate career, would you like to
share any of your professional experience which can help motivates the
aspirants?
Out of 30 years working for several
organizations, 10 was spent in the corner room.
There were obviously challenges of several kinds but let me
share with you. Things that have helped me develop myself in terms of
understanding social political ethos and developing myself into a much
effective leader.
At a particular occasion without mentioning any names let
me tell you as the Head of organization, I encountered 20000 people
dissatisfied for wants of seeking their requests.
Much against the advice of my subordinates I walked into
the mob all alone, heard their grievances, talked to them in plain words,
assured them that we resolve their issues and I stood my ground against an
almost violent mob.
What did this tell me? This event made me discover my inner
strength. I learnt that most people want to be heard and when the top man is
available for hearing they are satisfied.
This also teaches me that I must empower my views that they
make me redundant. One can grow in an organization; only when one creates
replacements for oneself.
What new initiatives will you be leading in the near future?
At KSOM, KIIT we shall now be focusing upon
areas and corporate world in a big way.
i)
Management Development Program (MDP) :- We shall
develop more rigorous more focused MDP (full form) involving the faculties,
students and the industry to enhance the quality of teaching, the motivation of
faculties and students and to create a healthy ground for even more strong
corporate relationships.
ii)
We will create much stronger research
orientation at the faculty level which will trigger down to the few mentors therefore
participation in generation of new knowledge.
iii)
I wish to also formulize something that we
started that is Corporate Mentorship. What this entails is involving senior
personnel from corporate world to mentor 10-15 students each.
We found this to be highly successful by way of students
actually adopting these faculties "Corporate Mentors" as their guides' outsides
the campus.
Do you have any advice for prospective students
applying for KIIT SOM PGDM Programs?
Some young students make the mistake of choosing
schools with a view of getting placements. They consider the placement of the
institution as the only criteria for selection.
My advice is if
you are looking for an average and above average placement please do not come
to KSOM. You should treat placement or rather good placement as the
consequential outcome of your learning.
You are most
welcome for the selection from KSOM, if you are willing to play hard, learn and
develop yourself into an individual capable of lifelong employability.
– Prof. (Dr.) Anil Bajpai, Director