List the number of things you can do with your used answer sheet. IIT Guwahati can give you ten and that too, palpable worthwhile stuff. To name a few, classy envelopes and gorgeous writing pads.
Dr Ramgopal Uppaluri who is the Professor-in-Charge of Green Office at IIT Guwahati is the brain behind IIT Guwahati's rather sui generis initiative to recycle some of its paper. "It was disheartening to see so much of waste paper in our institute. I am certain that all educational institutes generate a lot of it. But something had to be done I felt and rather strongly too," the professor told PaGaLGuY.
When the idea to recycle first crossed Dr Uppaluri's mind, it seemed outrageous because the institute generates significant amount of waste paper annually in the form of used answer sheets, discarded corrected manuscripts etc., Incidentally, Prof. Uppaluri observed that these could not be taken out from the educational system given the fact that assessment procedures definitely require the utility of papers. Therefore, the task seemed too gigantic to take  on and somewhere Green Office, IIT Guwahati had to initiate.
But then, another rather idiosyncratic drift around the institute that Dr Uppaluri had been witnessing for some time, cemented his decision to go ahead with the recycling. "I noticed that people at IIT Guwahati generally love envelopes. Even in the age of e-communications, envelopes are a big hit and in demand  all the time. So I decided I would recycle waste and make envelopes, besides of course other stuff.  In addition, note pads are very common utility material which can be used for Conferences, Short-term courses, Seminars and even short meetings"
So, all the used A4 papers, used answer scripts, discarded as per the rules of the institute were put into huge trucks and packed off to a recycling plant late last year. Oil paint papers were not sent as it is not possible to recycle them and get products such as envelopes and note pads.
To initiate upon, Prof. Uppaluri recycled about 1 tonne of waste paper and has got back about 0.9 tonnes of paper in the form of reusable "goodies". This translates to significant number of envelopes and few notepads for demonstration purposes. Since the recycled stationery that came back was in a smart off-white  colour, strewed with tiny self-coloured spots and slightly thicker to feel, they appear to be specially designed than the conventionally available white coloured envelopes available at stationery shops. The institute is yet to obtain greater feedback from faculty and staff members of IIT Guwahati.   Prof. Uppaluri has been advocating to use the prepared envelopes for a special occasions such as official communication, given the fact that the envelopes have IIT Guwahati logo printed and the noble initiate of Green Office being mentioned. Thereby, IIT Guwahati's noble initiatives could be taken to far off distances through the conventional mode of postal/courier communication even! What a smart way of using envelopes to conveying the message to far off distances.
If not anything else, the recycling venture has spurred a series of similar ideas in Dr Uppaluri's mind. From converting food waste to biogas and finding ways to put plastic to better use, the recycling bug has caught  Dr Uppaluri real tight. The waste food to bio-gas generation idea is in proposal format and has been recently submitted to Government funding agencies to get funding.    Further, the utility of waste cooking oil is also an interesting proposal that IIT Guwahati is considering to ponder upon in due course of time.
Finally, Prof. Uppaluri believes that waste recycle and management in educational campuses is the need of the hour. While active Governmental policies exist to support the same, faculty members from Chemistry and Process Engineering background could do wonders. This is the humble opinion of Prof. Uppaluri, who comes from chemical engineering background and who has strong interests in process development.
With respect to plastic,
Prof. Uppaluri opines as follows for the PaGaLGuY readers:
"Recycling
plastic is cumbersome, best is to avoid its usage. Use jute instead and help
make the environment a better place,"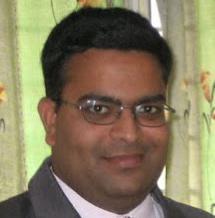 Prof. Ramgopal Uppaluri, Professor in Charge, Green Office, IIT Guwahati