FMGE 2016: Last date of registration extended to November 7
The National Board of Examination (NBE) has extended the last date of registration for FMGE (Foreign Graduate Medical Examination) 2016 till November 7. Earlier, the last date for FMGE online registration was at October 31. Along with FMGE, last date of online registration for other entrance examinations conducted by NBE (NEET PG, NEET MDS, PDCET, DNB CET) for the year 2016, have also been extended.
According to an NBE official, the extension in the date has been made to allow more students complete their online registration for the entrance examinations. "The server of the NBE website was slow during the last one week due to massive traffic. Many candidates faced problems in completing their application forms due to the same. Hence, the authority decided to extend the date of registration till November 7," said the official.
The students, apparently faced problems with uploading their photographs and scanned documents in the mentioned format and size, which resulted in delay and cancelation of forms. Candidates must follow the regulations available in the website for filling up the online registration form and scheduling their examination.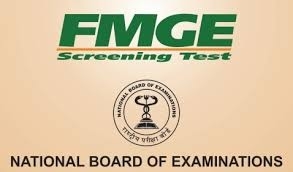 FMGE is conducted by the NBE under the statutory requirement mentioned in the section 13 (4A) of the IMC (Indian Medical Council) Act, 1956 (amended in 2002).  It clearly states that it is mandatory for an Indian medical student, who have a foreign MBBS degree, to give FMGE in order to acquire registration from a state medical council and practice in the country. The examination is conducted twice in June and December every year. The entrance examination for the December session is scheduled to take place on December 14, through test centres in 41 cities across the country.