FLAME University Final Placement Report 2014-2015
FLAME's
Placement Services Centre strives to facilitate students in finding
recruiters that fit their skill set. We help students define their career
goals and try to fulfill their ambitions by providing them with the best
available employment resources. Tools such as resume and interviewing
workshops, career fairs, career counseling, and presentations are used
extensively.
We are
excited to release our Final Placement Report for 2014-2015, which details
our efforts towards guiding the career paths of our students. Our
globally-developed curriculum, case studies and real life projects, group
discussions, debates, interactions with leaders of industry and alumni, all
go a long way in helping our students prepare for their placements.
Economic
conditions in India and worldwide have started to improve, but continue to
remain challenging. Even in such a challenging environment, our recruiters
continue to have faith in our curriculum, our faculty and our selection
process, which attracts the best minds to FLAME. We sincerely thank them for
their continued support.
We are
proud to announce that most of our postgraduate graduating class of 2015
seeking placement has been placed across companies, sectors and industries.
Our students on average had 5 interview opportunities. 70 companies
participated in our placement process. Companies recruited our students
across verticals and offered roles in the areas of equity research,
analytics, client servicing, marketing, relationship management, business
development, banking, consultancy, retail operations, organizational
development, human resources, industrial relations, e-commerce, etc.
Below
you will find placement statistics for 2014-2015.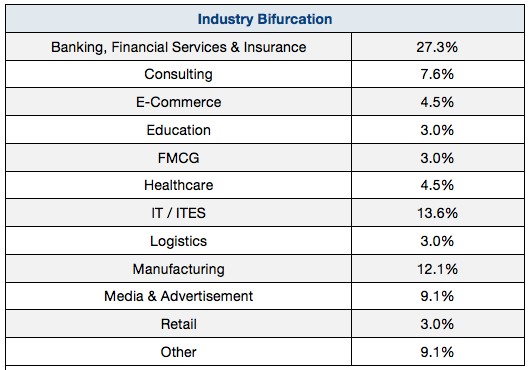 To
know more about our placement services, please visit www.flame.edu.in/career-services or call us at 1-800-209-4567.