Daily Current Affairs for Competitive Exams: October 11, 12 2016
Hello readers,
Here are today's important headlines with key details for UPSC, SSC, IBPS and other competitive examinations.
​
21 new districts formed by Telangana government
The Telangana government on October 11, created 21 new districts as part of the state. The number of districts has now shot up from 10 to 31.
The newly created districts are: Siddipet, Jayashankar, Jangaon, Jagtial, Yadadri, Warangal (Rural), Peddapally, Sangareddy, Kamareddy, Mancheriyal, Kothagudem, Vikarabad, Rajanna, Asifabad, Suryapet, Wanaparthy, Nirmal, Mahabubabad, Nagarkurnool, Jogulamba and Malkajgiri.

The state of Telangana came into existence on June 2, 2014 as the 29th State of India after its bifurcation from Andhra Pradesh.

The number of districts was increased to make it easier for the state administration to manage the population. After this move, there will be 2 to 4 lakh people in each of the districts.
Jitu Rai wins 10m Air Pistol Champions Trophy organized by ISSF
Beating Serbian Damir Mikec, Indian shooter Jitu Rai won the International Shooting Sport Federation (ISSF) Champions Trophy on October 10, 2016.

Jitu Rai won the cash prize of 5000 Euro.

The Rio Olympicn 2016 champion Anna Korakari finished third in this event.

The ISSF Rifle Championship Trophy was awarded to Russian shooter Sergey Kamenskiy.
Abdeliah Benkirane reappointed as Morocco PM by the King
Abdelilah Benkirane was reappointed as the Prime Minister of Morocco for the second term as declared by King Mohammed VI of Morroco on Monday, October 10, 2016.

Benkirane's party, the 'Islamist Justice and Development Party', has won 125 seats out of the Lower House with 395 members.

The opposition party, 'Authentic and Modernity Party' came second with 102 seats while Morocco's oldest party 'Istiqlal Party' won 46 seats.

43 percent of the 16 million registered voters in Morocco cast their ballot on October 7.

Benkirane has been serving as the Prime Minister since November 2011.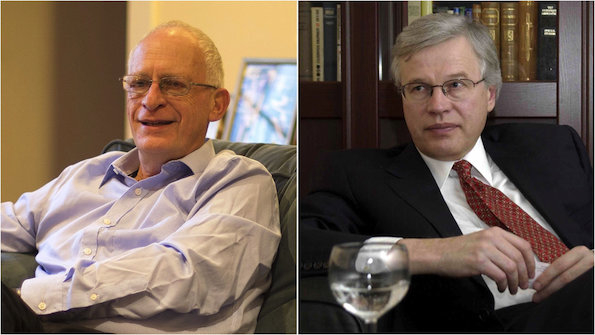 Oliver Hart and Bengt Holmstrom won the Sveriges Riksbank Prize in Economic Sciences
The Royal Swedish Academy of Sciences decided to give the 'Sveriges Riksbank Prize' in Economic Sciences to Oliver Hart and Bengt Holmstrom. The 'Sveriges Riksbank Prize' is given in memory of Alfred Nobel.

The award was given for their contribution to the contract theory, a comprehensive framework for analysing many diverse issues in contractual design.

Oliver Hart was born in London on 1948 and completed his Ph.D from Princeton University, New Jersy. Bengt Holmstrom was born on 1949 in Helsinki and completed his Ph.D from Stanford University.

The prize money, 8 million Swedish Krona, will be shared equally by both the laureates.
International Girl Child Day celebrated on October 11
On October 11, International Day of the Girl Child (IDGC) was observed across the world.

The theme of this year was 'Girl's Progress: What Counts for Girls' for increased investment in collecting and analysing girl-focused, girl-relevant and sex-disaggregated data.

United Nations, through a resolution in 2011, started International Day of the Girl Child, the objective of which was to promote the rights of girls and address the unique challenges they face.