CleaNIT; the cleanliness contest at MNIT
On the delightful morning of 2nd October 2014, our beloved Prime Minister, Mr. Narendra Modi, voiced aloud his vision to pay a tribute to the Father of the Nation, Mahatma Gandhi.  This vision, ingrained deep in the hearts of every Indian, was "Swachh Bharat".
Inspired to contribute to this vision, the Malaviya National Institute of Technology(MNIT) decided to ally the Prime Minister in his efforts. The Creative Arts and Cultural Society of MNIT brainstormed the idea of 'CleaNIT' or 'Clean NIT', where students would come forward to participate in a cleanliness competition rather than just a cleanliness drive. "Cleanliness drive was the new swag in our college. Hence, we came up with the idea of converting cleanliness- a free service, into cleanliness- a contest."  says Nemish Shah, the President of CACS. 
The first CleaNIT- the clean NIT competition, was launched on August 15, 2015, the day when everyone feels a rush of patriotism. Students began to register in teams of 4 for the competition. The CACS team had created a list of all the unclean places inside the campus where the teams were sent with brooms, gloves, masks, paper soaps and a time limit of just 45 minutes to clean the area and bring as much garbage as they could.
Around 500 students and teachers participated and more than 2 tractors full of garbage were sent to the recycling plant. Since then, 3 CleaNITs have been organised in MNIT. New dustbins have been installed in campus at every 100 meters.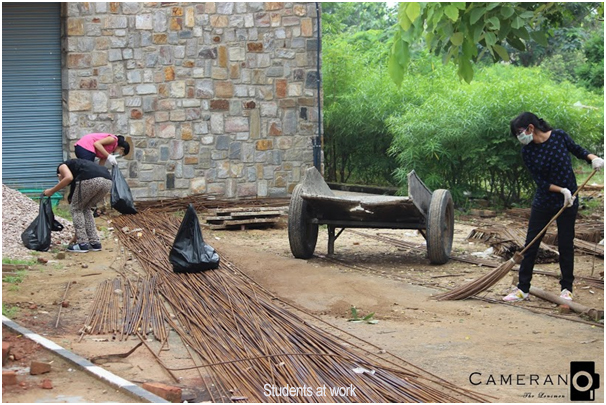 Through this movement, MNIT contributed, and still does, towards making India a cleaner country to live in.
This article is part of PaGaLGuY's innovative internship certification programme for engineering students. Currently, two such programmes are on – one is an Internship in Creative Writing, and the other is a Certification in Digital Media. If you are interested in partaking and bagging a certificate, besides learning the nuances of effective writing, write to us at wordslingers@pagalguy.com.