CAT 2016 topper, Yash Choudhari, Pune boy scores 100 percentile
CAT 2016 results were declared today, January 9, 2017, with much chaos and anticipation of downloading the score card. One of the most awaited exams of the year for MBA aspirants CAT, has been notoriously known to produce a couple of 100 percentile aspirants every year, making it awfully tough to secure admission to the top IIMs. One of the CAT topper for 2016, Yash Choudhari, and probably the first known topper for the day, has shared his experience with PaGaLGuY about achieving this feat. 
Currently a 4th year BTech student from College of Engineering, Pune (CoEP), Yash, hails from Kolhapur where he completed his school education up to class 12. An over-achieving smart fellow since his school days, securing a 100 percentile in CAT in his first attempt wasn't a surprising moment for him. "I was expecting anything above 99.99 percentile, even a 100. I had been preparing for the exam for 7-8 months," he said. While many CAT aspirants struggle with the Quant section in the paper, so much so that pulling out an auburn seems normal, Yash says that Quant has always been his strong point. "While solving test series and mocks for the CAT, I always scored the highest in Quant. Verbal in fact was my weakest area," said Yash. However, according to his score card, Yash secured the highest score in the Verbal section, and second highest in Quant. His CAT 2016 section-wise percentile is as follows; VA: 99.9 DILR: 99.86 QA:99.96 . You can see his score card below.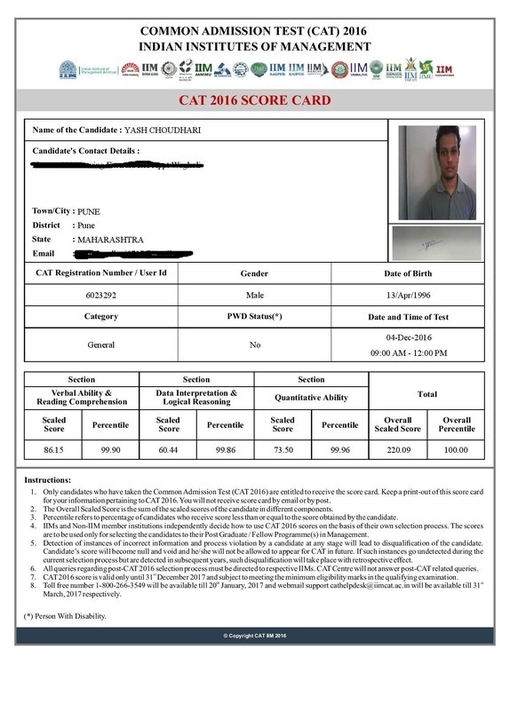 DILR was the toughest section to solve according to him. He was surprised to see that none of the sets in the DILR section had tabular, infographic or graphical questions, something he had practiced thoroughly from the previous years' question papers. He was, however, prepared to be surprised a bit, as he said, "No matter how much ever you prepare, the CAT will always be a step ahead of you. There is always an element of surprise, and this time it was in the DILR section. Only those with strong logical reasoning skills could solve the section. When I saw the question paper, I decided to leave 2 sets of questions as they were beyond my understanding. Out of the remaining 6 sets, I was able to complete only 5." This he said should be an ideal strategy for all sections, as trying to solve all questions in a set is just a waste of time. A smart student would know which section is tougher than that in the previous years' papers and is most likely to bring down the percentile for all aspirants. 
Yash, who will be appearing for his BTech graduation exam in May 2017, has already received a job offer through college placements, but has decided to forfeit the offer if he makes it to the top B-schools of his choice i.e. IIM Ahmedabad and IIM Bangalore. PaGaLGuY wishes Yash All the Best for his admission to IIMs.