CAT 2016: Maya, Mehndi and CAT – An interesting tale amidst exam stress
Amidst the bustle of students waiting in line to enter a CAT centre in Mumbai, was a young lady with elaborate Mehndi designs on her hands. Given that the CAT authorities had recently notified candidates not to have any mehndi or other cosmetic colours, this reporter assumed that she was accompanying someone giving CAT this year. That was until, the man she was with handed her an admit card.
As it turns out, Maya Kaintura is a newly-wed woman from Dehradun, who landed in Mumbai two days ago for her CAT examination. She was accompanied by her husband Sanjay Rawat, who was with her outside the examination centre just before the CAT 2016 afternoon slot examination started. The newlywed couple, who got hitched last week, was not aware of the CAT authority decision to not allow candidates with 'mehndi' to give the examination. "Now, along with the pressure of the examination, there is added tension that whether I will be allowed to sit for the examination," sighed Maya.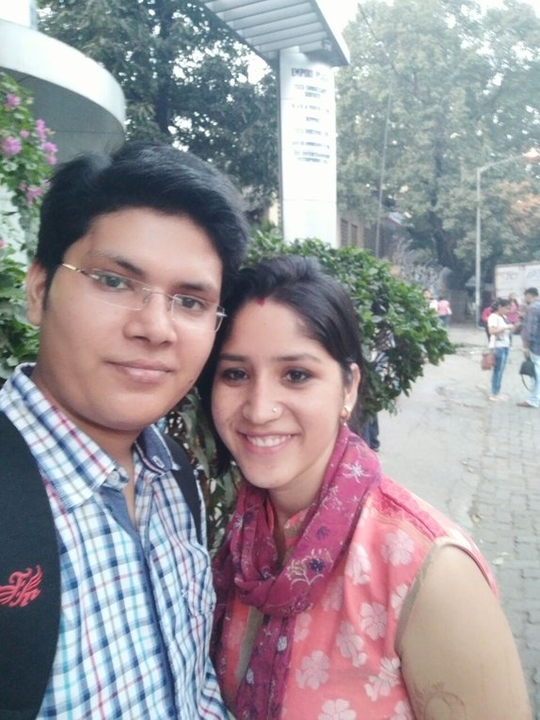 Maya, who wants to pursue an MBA in Finance, was a little nervous because her arms (except her palm) were still covered with her wedding 'mehndi'. "We were dating for quite some time now and decided to get married this year, just before CAT 2016," pointed out Sanjay with a smile. 
Both Maya and Sanjay have a connection with PaGaLGuY, as both of them frequented the website during their preparation for MBA. Sanjay, who did his MBA in Power Management from UPES (University of Petroleum and Energy Studies), Dehradun, seemed confident about his wife cracking CAT this year. "Although she had got admission in IBS Mumbai last year, she couldn't start her course due to our marriage plans. This year, I forced her to take CAT, even though we  just got married," said Sanjay. 
After waiting a while with Sanjay, this correspondent, was assured that Maya was allowed to sit for CAT 2016. "She has already dropped a year due to our marriage plans. Thank God, this time she has made it to the examination," said Sanjay.
Maya, after coming out of her exam centre informed this reporter that her examination was good, keeping in mind the amount of time she had got for prep. "I was quite busy during the last month with the preparations for the wedding. Although I solved around 50-60 questions, I think overall, CAT 2016 went well for me," concluded Maya.