Bridge School Celebrates 3rd Graduation Day
80% Graduates move to New, Better opportunities. BRIDGE School of Management launches Future Focused industry focused programs in Supply Chain & Digital Marketing. for new age, in–demand competencies
April 9th 2017, Delhi: Bridge School of Management celebrated its 3rd Graduation Day, where a new cohort of industry ready professionals graduated after successful completion of their academic programs. The convocation ceremony held on Sunday the 9th of April, saw the felicitation of graduates of the Predictive Business Analytics Program and the Post Graduate Program in Management.
"It is a matter of great pride that over its brief history of 3 years, BRIDGE School, has strongly positioned itself as a unique value oriented professional institution. We set out to transform aspirants' careers through professional education that is tangible, relevant and practical. We are proud that we have begun to deliver this consistently. 80% of our graduates have moved to new and better opportunities, either within functions or across. The fact that a significant number of our alumni are recommending Bridge School to their colleagues is a testimony of our quality. And this is from sectors across IT & ITES, Banking & Financial Services, Telecom, Media, Consumer Durables, Aviation & Logistics, and Consulting." said Dr Bibek Banerjee, Dean of Bridge School, while addressing the distinguished audience.
Dr Banerjee also added that Bridge School has expanded their portfolio of activities through Customized Corporate Programs, and organizations such as Coca Cola, Walmart, HT, Fortis, et al have benefited from these offerings.
BRIDGE School has already achieved many milestones in its brief history of 3 years. The institute has increased its program portfolio with future focused programs in Digital Marketing and Supply chain addressing the high industry demand for skilled professionals in these sectors. The Predictive Business Analytics Program of BRIDGE, in collaboration with USA's Northwestern University, improved it's national ranking to No. 4 in the current year.
Mr. Ashwaini Windlass, Chairman, MGRM Inc., USA and former MD of Reliance Telecom Ltd was the Chiefthe Chief Guest for the occasion. Mr. Windlass shared insights from his illustrious professional career and gave the graduating students practical wisdomtips to navigate their careers for professional success. "Highest returns will result only from sincere, sustained hard work, and the human factor will continue to be significant for success as technology will be only an enabler enablerCourage of conviction and the ability to manage constraints is the hallmark of a trained professiona.l" said Mr. Windlass. TheWindlass. The graduating students comprise a mix of professionals working in multinationals, large and medium Indian companies, as well as entrepreneurs with an experience range of 2-15 years.
The BRIDGE School of Management, set up in October 2013, is a joint venture between HT Media Ltd. and Apollo Global IncInc. (USA)..
Bridge School has an exclusive academic partnership with the Northwestern University (USA) for multiple programs. Northwestern has a dozen schools and colleges, including Kellogg School of Management, ranked 3rd among the USA's Best Business Schools by U.S. News.
About BRIDGE School of Management
BRIDGE School of Management is a new-age business school based on blended delivery methods, launched by India Education Services Private Ltd., a Joint Venture between HT Media Ltd. and Apollo Global Inc. (USA). BRIDGE School of Management is formed to address the 'employability' gap to help India's rapidly growing Service and Manufacturing Industry educate and empower employees for a 21st century global workplace. Leveraging the best-in-class knowledge, experience, expertise and technology from Apollo Global, Inc. (USA), BRIDGE aims to provide an innovative learning environment and industry focused management programs for aspiring and working professionals to boost their career. Bridge School offers open programs and training solutions in Analytics, Digital Marketing, Supply Chain Management, Project Management and General Management. BRIDGE School of Management is a flagship business school launched by India Education Services Private Ltd., a Joint Venture between HT Media Ltd. and Apollo Global Inc. (USA). BRIDGE School of Management is formed to address the 'employability' gap to help India's rapidly growing Service and Manufacturing Industry educate and empower employees for a 21st century global workplace. Leveraging the best-in-class knowledge, experience, expertise and technology from Apollo Global, Inc. (USA), BRIDGE aims to provide an innovative learning environment and industry focused management programs for aspiring and working professionals to boost their career. (www.Bridgesom.com)
If you have any queries – Ask Here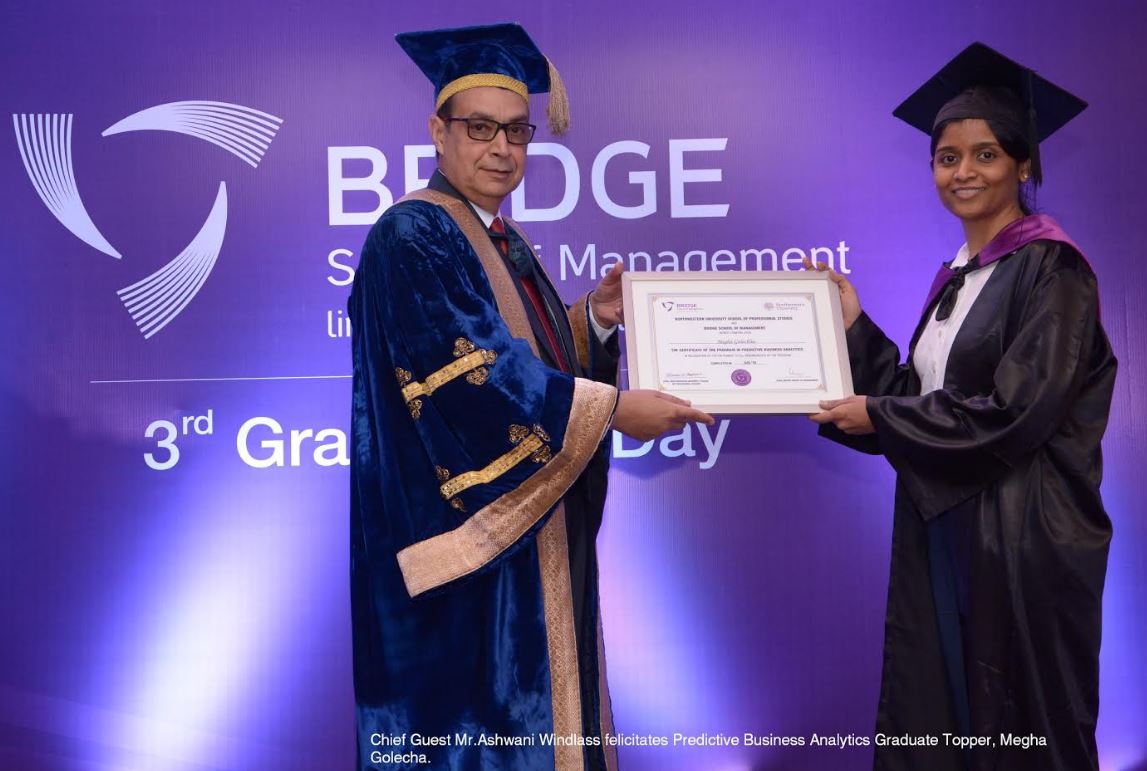 ​
​