AIIMS MBBS 2017: CBSE Class 12 results, tough Physics paper and far off centres bothered aspirants
Medical aspirants from across the country who desire to be a part of the prestigious All India Institute of Medical Sciences (AIIMS), took the MBBS entrance examination today on May 28, 2017 at centres across the country. While some of the candidates were lucky to get their desired centres, some had to give up due to far off examination centres.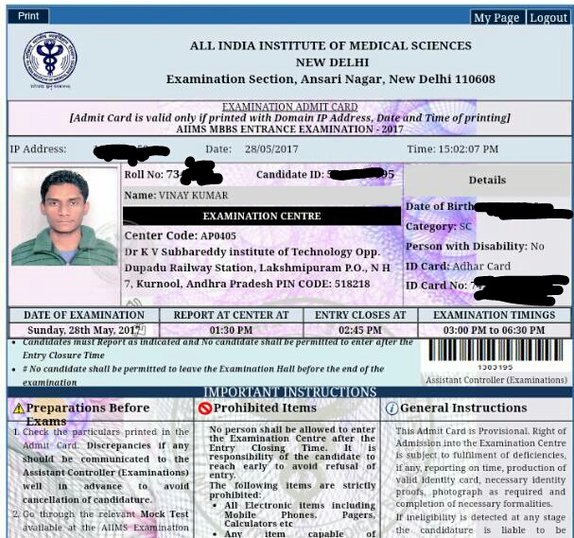 An AIIMS aspirant from Delhi, Vinay Kumar, was not able to take the exam. Although he filled his preference of exam centre as Delhi while applying, when he downloaded his AIIMS MBBS admit card, he found out that his exam centre was in Andhra Pradesh. "I couldn't take the exam as it was financially impossible for me to go this far for a single entrance exam," stated Kumar. Another aspirant, Kapil Suthar from Udaipur couldn't take the risk to take the examination at his centre in Surat, Gujarat, as he was just recovering from malaria. "I was hopeful about the AIIMS entrance test but couldn't take it as it was too far for me to travel after my recent bout of malaria," said Suthar. Although the coveted AIIMS MBBS entrance test takes place in 171 cities across the country, it seems the planning of proper distribution of centres to the aspirants is not foolproof. 
Interestingly, the CBSE (Central Board of Secondary Education) also released the class 12 result in the very morning.  Already anxious about the delayed CBSE results, candidates took the AIIMS entrance examination while the results were being announced. Adarsh Mishra from Patna, checked his score just after coming out from the examination hall. "I have scored 80% marks in CBSE class XII, which I checked after my exam today," said Mishra.  On the contrary, some aspirants had little to worry about the board results. "I haven't yet got the time to check my results. Although I am excited, I never gave much prominence to the board exams," said AIIMS MBBS aspirant Mohit Nandal from Haryana.
Already waiting for NEET (National Eligibility cum Entrance Test) results, Nandal took AIIMS to make sure that he doesn't have to reappear for NEET (if it takes place again). Given the present scenario of constant protests and court cases against the CBSE on mishandling NEET 2017, it is possible that medical aspirants might have to sit for NEET again. "I am expecting a score around 110 and although I might not secure a seat in AIIMS, Delhi, I am confident of getting a seat in other AIIMS after a good exam today. If I secure a seat in any of the AIIMS, I would not have to think about the possibilities of a re-NEET anymore," said Nandal. 
Shah Milon, a repeater from Guwahati, felt that Physics was the toughest paper as it carried a lot of tricky and time-consuming numerical-based questions. "The overall questions were pretty difficult compared to last year, but Biology was totally NCERT-based and easier in comparison to other papers," said Milon. He is expecting a score of over 130 and is hopeful of getting a seat as he is hoping of lower cut-off marks this year.
On the other hand, Mishra from Patna was not sure about his scores yet as it was his first time taking the AIIMS entrance exam. 
Like Milon and Mishra, Nandal also found Physics to be the toughest with Chemistry and Biology to be of moderate level. "General Knowledge and Reasoning are two sections that had really easy questions and would help scoring good marks along with the Biology questions in the overall paper," concluded Nandal. 
The AIIMS entrance examination carries questions worth 60 marks each in Physics, Chemistry and Biology. Along with that, it carries questions worth 20 marks related to current affairs, general knowledge and logical reasoning. AIIMS MBBS 2017 examination took place today for admission in over 700 MBBS seats across the country in the branches of the premiere government medical institute in the country.