23 new NEET UG test cities announced, check the list here
The Union HRD Minister Prakash Javadekar announced inclusion of 23 new test cities at different states across the country for NEET (National Eligibility cum Entrance Test) UG 2017 examination. The announcement has been made by the minister through his twitter account through a series of tweets this morning.
Earlier, a total of 80 examination cities were allotted for NEET UG 2017 examination this year. With the inclusion of 23 new cities, the number will increase to 103. This will not only help candidates from interior parts of the country to take the examination more easily, it will save the trouble of travelling to different parts and arrange for their stay to take the examination. Since NEET is the only entrance test that will take place this year for MBBS/BDS admission, inclusion of new examination centres at population dense states would help.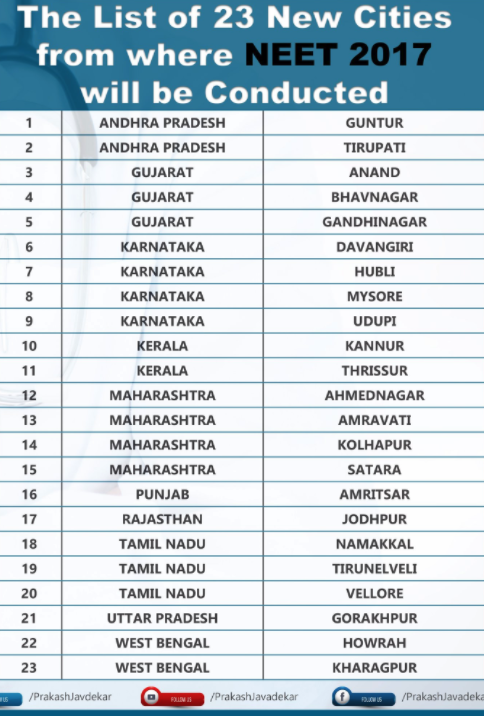 Four new test cities have been added to Maharashtra and Karnataka each, while 3 each have been added to Gujarat and Tamil Nadu. Andhra Pradesh, West Bengal and Kerala have got 2 new test cities each while Punjab and Uttar Pradesh have got 1 new city each. 
​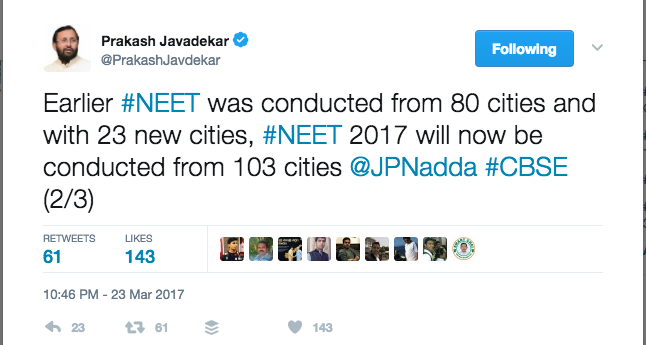 Javadekar in his tweet mentioned that the inclusion of 23 new examination cities for NEET UG examination would make the numbers on par with the IIT JEE examination centres.

Candidates will get the chance to change their examination centre choices from March 24 to March 27 by visiting the website of CBSE and revising their option of city chosen earlier. 
In a notice released by CBSE, it has been mentioned that 11,35,104 candidates have applied for the NEET UG examination this year and to accommodate them, there will be more than 2,200 institutes across the 103 test cities. The notice further mentions that the increase in number of test cities has been done majorly due to the increase in number of candidates applying for the examination. Last year, around 8, 02, 594 registered for the examination. A total of 41.42% increase in the number of applicants has been registered this year for the NEET UG examination.