Delay in semester due to unrest in J&K, NIT Srinagar students approach HRD Minister
Jammu and Kashmir has been in turmoil for a long time now due to the on-going conflict and curfew. This has also affected the students at the National Institute of Technology Srinagar (NIT Srinagar). The first semester which were originally to begin from July 27, 2016 has been postponed until October 3, 2016. Students wrote to the Human Resources Development Minister Prakash Javadekar if they could be temporarily shifted to an NIT in a different state, so they wouldn't face further loss of their academic year?. The registration process to enroll at the institute for all batches  including B.tech, M.tech, and Ph.D is also pending.
In a letter addressed to the HRD Minister, NIT Srinagar students have pointed out that while all other NITs are at the juncture of conducting the Autumn semester examination, NIT Srinagar is yet to even complete the registration process for the same. A third year student at NIT Srinagar says, "We were promised that the lectures will begin around the first week of August, but because of the curfew in the state, our academic session was postponed. It's now delayed by almost two months. There is no guarantee that the situation will be stable. Hence we have requested the HRD minister to consider shifting our campus temporarily to another NIT."  The letter states that there are first year students who probably haven't even seen the campus yet.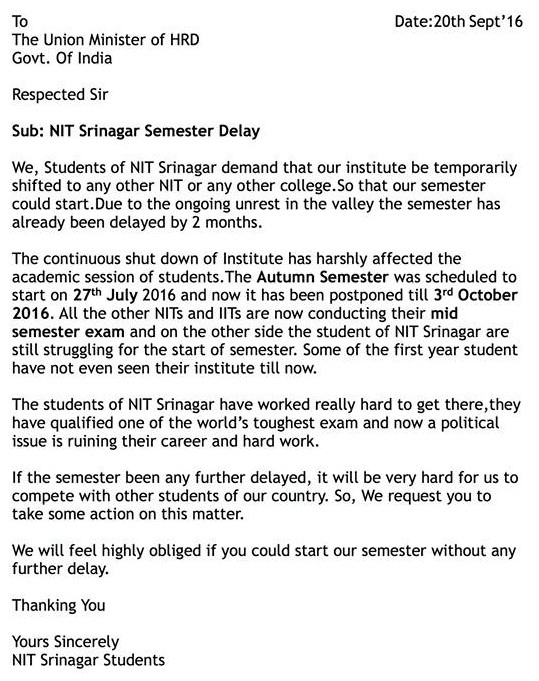 Prof. Rajat Gupta, the Director of NIT Srinagar says he doesn't know about the letter written to the HRD minister. However, he says that in order to cover the syllabus, Saturdays and most other public holidays  will be converted to working days. Professors too have been directed to ensure the availability of the syllabus on the website. "Efforts have been taken to ensure the best use of whatever time is remaining. The situation in the state is fragile, but we don't want the students to lose out on their academic year," adds Prof. Gupta.
The institute has been in turmoil over various issues including student protests over nationalism, alleged discrimination against non-local students etc.The on-going unrest in the valley has added yet another issue for the institute.
​
​
​