Supernumerary seats at IITs for female students, a step to bridge gender gap
Concerned by the slump in number of female students entering the Indian Institutes of Technology (IITs), the Joint Admission Board (JAB) on August 21, 2016, decided to set up a sub-committee under the chairmanship of Professor Timothy Gonsalves, Director, IIT Mandi to examine the ways to improve the participation of girls in the Bachelor of Technology (BTech) programmes.
A few days ago, this sub-committee recommended that IITs should have reserved seats for girls. Shortly after committee's suggestion came out in media, students both male and female, took to social media platforms to react against it.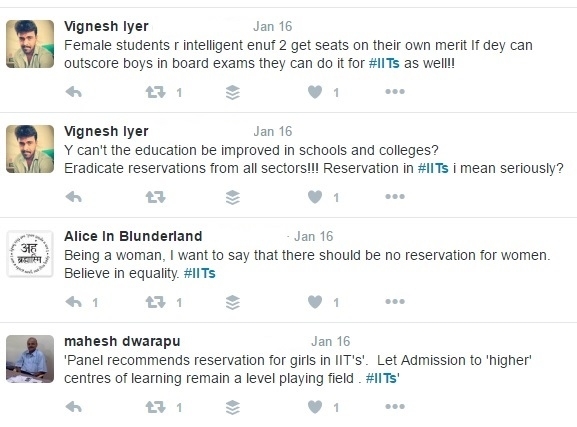 The proposed measure ensures that it does not come as injustice to other candidates, as the reserved seats for girls will be supernumerary. (When the allotted seats are more than the intake capacity for a particular-academic programme, extra seats are called supernumerary seats). The committee suggested to create up to 20 per cent supernumerary seats of the total number of seats for all academic programmes.
The girl topper in JEE Advanced 2016 had an All India Rank (AIR) 133, which means there is not even a single female in IIT Bombay's Computer Science programme. The gender ratio at IITs is a topic of serious discussion, and the table given below speaks for itself.

In India, Engineering is traditionally a male dominated stream. According to the All India Survey on Higher Education (AISHE.gov.in) conducted in 2014 – 2015, less than 30% female students pursue higher education in Engineering.

While the committee is suggesting IITs introduce supernumerary seats for female students, the institutes are also aiming at increasing the number of seats. Currently, there are 72,000 students at IITs. Last year, in a pan-IIT meeting, the council decided to increase the number of students by 30,000 with the objective of bringing the student strength at IITs to one lakh by 2020.
But it was met with some resistance from IITs as increasing seats means that the corresponding infrastructure had to increase as well. Which also makes one wonder, will the additional 20 percent put a strain on the existing infrastructure at the IITs? Will the IIT Council accept the proposal and implement it?
​