Sri Sri Ravi Shankar motivates coaching students of Kota through positive thinking and meditation for busting stress in life
The founder of the Art of Living, Sri Sri Ravi Shankar motivated the coaching students of Kota through positive thinking and meditation for busting stress in life.
Sri Sri Ravi Shankar conducted a mass meditation and interactive session with thousands of coaching students at 'Utsah', an event jointly organized by the Art of Living foundation along with all the leading coaching institutes of Kota at the Government Commerce Grounds at Kota yesterday. Ravi Shankar exhibited meditation techniques to the coaching aspirants for stress busting. Speaking to the aspirants, Ravi Shankar said, "The sign of youth is to dream, do something for your country in any field – sport, art, literature."
He also urged students to stay away from any type of addictions.
"Embrace society and own the world right away. Life is a festival," Sri Sri said, adding, "When stress develops, we become sad, depressed, and then people can misuse this state of mind. They could incite youth to throw stones and engage in other unlawful activities. Spirituality and meditation will keep you away from negativity."
Sri Sri answered questions on various issues ranging from how to handle expectations from parents, to how to handle competition and comparison with others. Students also asked about the need for spirituality and meditation.
A coaching aspirant, Saksham Aggarwal, raised a question before Sri Sri Ravi Shankar that he cannot stop himself from competing with others to which Sri Sri replied that do not compete with others, compete with oneself. One aspirant named Harshit told Sri Sri about feeling lonely away from home in Kota to which Sri Sri asked him to take up meditation and also increase interaction with fellow students.
This event is a culmination of a six-month-long campaign called 'Spreading Smiles, Kota' which has seen 80,000 students learn meditation techniques so far. The Art of Living launched this massive initiative to help aspiring students, who are preparing for entrance examinations, combat the heightened level of stress. Kota, the coaching capital of India, has a significant student population. Apart from meditation, over 6,000 students also learnt the Art of Living's powerful rhythmic breathing technique, 'Sudarshan Kriya'.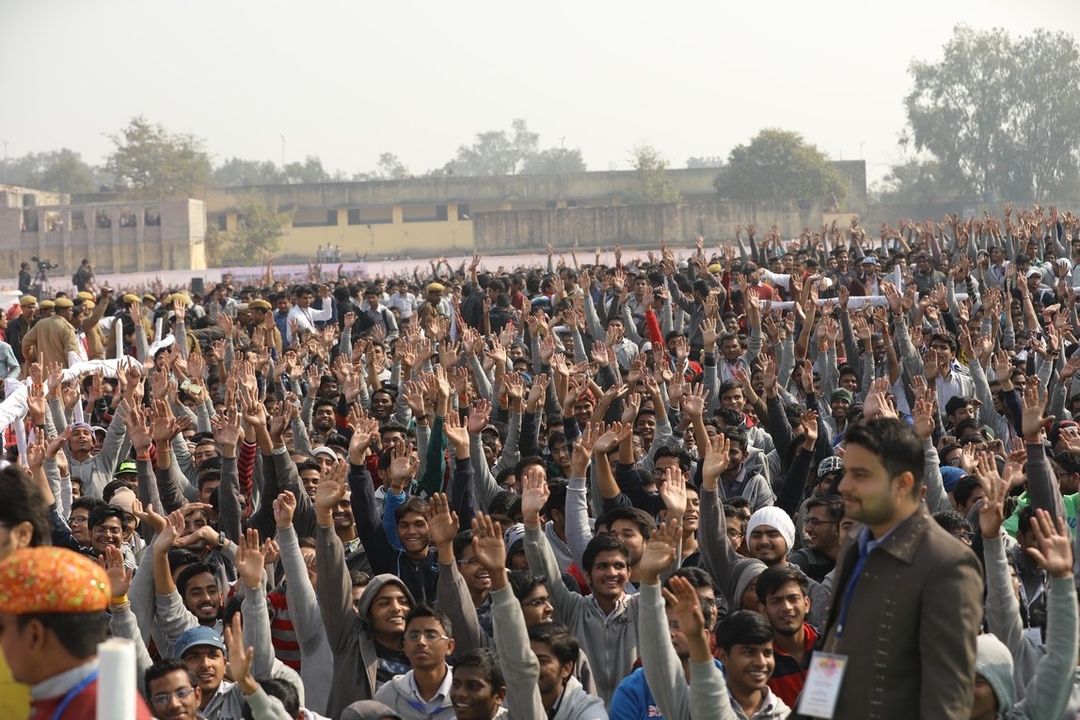 Reacting to the event, one aspirant, Prerna Mehta, said that she felt very relaxed after attending Sri Sri's event as he himself conducted the meditation during the programme while delivering inspirational words. Another aspirant, Shubham Kumar, said that he would follow Sri Sri's tips about getting enough sleep, a positive approach in life, meditation and enthusiasm.
The campaign that commenced in July 2016 has been led by a team of Art of Living volunteers and instructors who are doctors, engineers and professionals themselves and have been working with students to prepare them to face the challenges.
Speaking on the occasion, Chief Minister, Rajasthan, Vasundhara Raje said that coaching institutes must not overburden students with so much studies that they do not get time to relax at the end of the day. She also called upon parents to not burden their children with expectations. She announced that state government would soon start 'Coke Studio' and 'Jam Sessions' in Kota to provide a platform to coaching students for exhibiting their inner talents since recreational activities boosts educational performance of students.
​