RICS SBE : Summer Internship Report 2014
As an academic institution which has been set up by the industry, for the industry – there is continuous support from leading employers in the field. Being the only specialized school for real estate and construction education, our students understand business requirements and are best placed for various roles in this sector.
The summer internship process for both MBA programs 2013 batch started in February 2014. Nearly 63 leading firms in real estate & construction – including real estate development firms, construction firms, global real estate consulting firms, global construction consulting firms, global and Indian project management and cost management consultancies, banks and housing finance companies, global investment banks, facilities management companies & professional services firms participated in the process.
After a stringent process of employer interviews, skill-set matching between employer needs and student skills, as well as student's preferences, all students were recruited for the internship period in May-June 2014 (8 weeks).
HIGHLIGHTS
– 63 companies participated in the internship process
– More than 140 offers were made by participating companies
– 80 students sought internship through the institute while 7 arranged their own internships
– 100% placement
of all 80 students as summer interns by 32 companies
– 30% of the students had at-least 2 offers and about 10% of the students had more than 3 offers each
– Highest stipend offered – INR 45,000 per month
– Average stipend offered – INR 15,000 per month
STUDENT PROFILE
Academic background of MBA students studying across MBA Construction Project Management and MBA Real Estate & Urban Infrastructure comprises of technical fields like engineering & architecture as well as non-technical backgrounds.
Interact with the current students at RICS SBE.
TYPE OF FIRMS THAT PARTICIPATED IN INTERNSHIP PROCESS
Real estate development, Construction, Global real estate consulting, Global construction consulting, Project management and cost management consultancies, Banks and housing finance, Global investment banks, Private equity funds, Facilities management companies, Professional services firms
SECTOR WISE CLASSIFICATION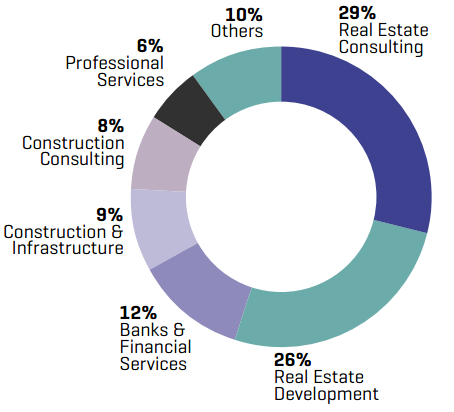 Students were placed in a wide variety of roles such as investments & finance, real estate private equity, real estate capital markets, marketing, strategic consulting, construction management, project management, quantity surveying, cost management, corporate real estate, facilities management and market research.
Marquee companies that made offers included CISCO, Citibank, CRISIL, IDFC Alternatives, HDFC, Jones Lang LaSalle, CBRE, Hines, Larsen and Toubro, Tata Housing, DLF, K Raheja, Lodha Group, Embassy Office Parks, Steiner India, Afcons Infrastructure, Milestone Capital, DTZ, Knight Frank, HVS and many more.
COMPANIES WHERE STUDENTS WERE INTERNING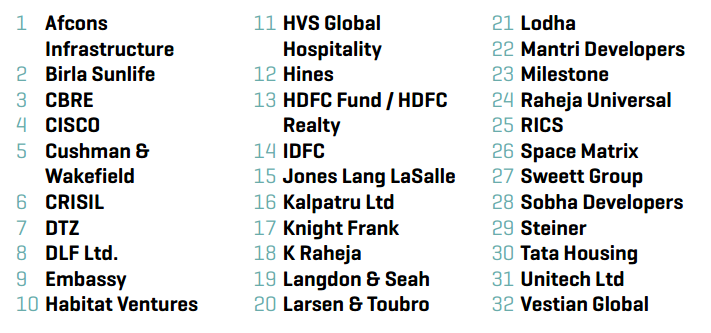 Get your queries solved by the RICS admissions team here.
Note: This is a sponsored article and has NOT been written by the PaGaLGuY Editorial Team. It is intended from an informational perspective only and it is upto the readers to research and verify the claims and judgements in the article before reaching a conclusion.